No matter your affiliation or knowledge, you will feel connected to and have a love for the Land of Israel and its heritage after a tour with me!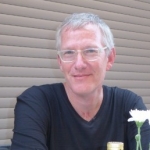 At seventeen, I went to High School in Israel and at that time decided I would own my favorite falafel stand. The falafel stand, to my huge disappointment, was not for sale.

Thirty-seven years later, and after a twenty-eight year career as a litigating attorney in Memphis, Tennessee, I finally fulfilled a lifelong dream. With my wife and four daughters, I moved to Israel. I went from the "Bible Belt" of the USA to the "Land of the Bible".

I am a guide who loves this country and all its complexities. I am grateful for the privilege to guide you through this historical and magnificently beautiful land.

In Genesis, God instructs Abraham to "Get Up and walk about the Land, through its breadth and width". Come walk with me and explore, experience and connect to Israel!
Testimonials about Alan Harkavy
Melanie and Eddy (Holland)


Private Tour Jerusalem Old City
Review of: Private Tour Jerusalem Old City

Alan Harkavy guided us through the old city of Jerusalem. He managed to give us a good insight of the 3000 years of history, as well as the way the various religions are connected to each other. A day with Alan in Jerusalem learned us more than 15 years of school education had done. Not only educational, but also with a lot of fun and cliffhangers (always at his best not to spoil the last page of history) and knowing his way to the best hummus in the world.

Melanie and Eddy

Dmitri S

Reviewed yesterday
EXCELLENT TOUR WITH ALAN HARKAVY
Review of: Private Tour Jerusalem Old City

We had an amazing 1.5 day tour of Jerusalem with Alan. Alan managed to untangle for us the complexity of the 3000 years of Jerusalem history and both adults and our teenage kids loved it. Most importantly, we all felt as if we spent time with a good friend - somebody you would invite to your kid Bar Mitzvah.
Richard C, New York (TripAdvisor)

Richard C
ny
6758
Reviewed 8/12/18
"ASK FOR ALAN HARKAVY"

Review of: Full Day Jerusalem Tour: In Jesus' Steps

Some people are born to do a particular profession. Alan has passion, deep knowledge, and joys in sharing both with you. We were a small family of three including a 14 year-old daughter. We wanted to see the Orthodox Christian sites of importance. At each site Alan brought us back in time to the events as they occurred. Alan is not just a tour guide he is a teacher in the true sense of the word. I Growing up had a few of those who leave you with something that stays with you for life. During the tour people gravitated off their own tours to listen to Alan's passionate teachings. Did we become his disciples? We spent two days with Alan. The first day seeing Christian sites outside of the city including the Baptismal site at the Jordan river. The second day recreating the events in the life of Jesus and the birth of Christianity. Alan has a vast knowledge of the history of the three religions involved, and loves to share that with you in a way you will judge all future guides. We will come back and will request Alan. As a side note when one travels you miss many photo ops because you are just too busy to follow the action, well Alan sent me by email many of those missed moments.

https://www.tripadvisor.com/ShowUserReviews-g29393-d11745450-r568196279-Booqify-Jerusalem_District.hyml
---
---
---