I'm a Jerusalemite, touring the holy land is an awesome experience, I can provide biblical tours, modern tours, fun tours, hiking tours and so on.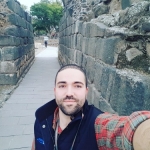 other than giving information and explaining the history of sites, my job is to make you feel that israel became your second home and make sure you will come back for another visit. i offer night tours in the old city, city center, main market which you wont regret visiting it.
lets discover the holy land together
Testimonials about Charlie
Paul Kreiner

One thing that sets apart good guides from great ones is when you get a chance to bond with them - not just as professionals (which they are) but as people too, sharing their knowledge, passion and a few laughs along the way. having experienced good and great guides i can say that Charlie is a great guide. He's consummate professional, but he also someone who clearly has passion for the history of Israel, deep knowledge and is willing to share both these with us.
Thank you for an amazing first trip to Israel
Cherie Wilkinson

Our Tour Guide Charlie was fantastic, very joyful and knowledgeable and always kind and friendly. i had a very blessed and safe time in Israel
Kevin

Hi Charlie
I really enjoyed my first trip to the Holy Land, you are the reason my trip was so good. You helped me understand the history. When i come again i hope we can get you.
Tours of Charlie

Jerusalem through the ages
4 Quarters, Western wall, Via Dolorosa, Holy Sepulcher, David's tomb and the
$ 240 Per tour
Meet at the hotel

drive to Zion's gate

the Upper room

Tomb of David

Jewish quarter

View on Temple Mount

Western wall

Muslim quarter

Via dolorosa
---
---
---