We are here to make your vacation a real peaceful one.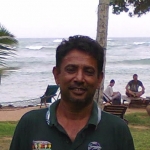 I have been working in the tourism industry for about 25 years and I know well how to handle tours in Sri Lanka. Having been working with a lot of foreigners, I assure your holiday to be one of a kind trip here in Sri Lanka.
Testimonials about Jagath Perera
Bernhard Marita

Trip - 13.3.18 - 22.3.18
Colombo - Negombo - Dambulla - Habarana - Sigiriya - Kandy - Nuwara Eliya - Ella - Tissa - Mirissa - Colombo
Dear Jag,
Thank you very much for the wonderful Trip. We enjoyed the calm and secure driving. you are a very good driver. you suggest fantastic additional tours, which we have not read before in any guide book Eg. Hiking in the Lipton tea plains". This was beautiful! Thank you, That we had an additional Safari in Kaudulla. We have never seen so much Elephants before. The whale watching tour in mirissa was also Fantastic (we have seen six blue whales, one pilot whale and mana, many dolphins). Thank you for everything.
Thomas, Claudia, Bernhard Marita.
Email - kufano@googlemail.com


Jette Peterson


How lucky we were to have you and your nice, big car for our 3-week trip to Sri Lanka. We always felt safe with you driving, no matter how narrow and steep the roads were. You were always punctual, and you never lost patience with us when we were delayed as is often the case when travelling as an extended family (grandparents, parents and three children, one of which only nine months old).

Your excellent English and knowledge of Sri Lankan history, traditions, vegetation and wildlife was invaluable as was the sound advice of where to go and not to go with children as young as our grandchildren. I am sure you prevented us from making many mistakes. You let us do things on our own when you knew it was safe to do so, but you also came along on many of the excursions you arranged for us, which was extremely nice and helpful.



Thanks also for helping us book hotels at lower prices than we could have done ourselves, finding restaurants to our taste and persuading us to go to Yale Safari Park in stead of the one we had planned to visit and to spend an extra day at he hotel near Yale so that we had sufficient time do things in a relaxed way.



We will definitely recommend you and your services to our all of our friends and and people who plan to go to Sri Lanka, and if we ever go back to Sri Lanka we will definitely leave all arrangements in your vapable hands.

Thank you once again for making us love Sri Lanka, its wonderful, lush nature, its people and temples. We wish you the very best for the future.

Kjeld and Jette from Denmark

?

Email – jettetwin@live.dk

Duration – February 1st – 14th 2017




Anna Richard


Trip - Negombo - Anuradhapura - Mihintale - Trincomalee - Pollonnaruwa - Sigiriya - Dambulla - Kandy - Nuwara Eliya - Ella - Haputale - Rathnapura - Mirissa - Airport.
Jagath is a calm and safe driver which seems to be rather an achievement in Sri Lanka! He provied us with a fantastic trip. He soon understood the type of trip that we wanted with only in terms of the smaller restaurants that we preffered. But he was also unconcerned that we wanted to spend extra time at some of the sites and made sure that we saw everything that we were interested in. He is very informative on Sri Lankan culture and the wonderful Flora and Fauna.
Jagath, Thank you for such a wonderful trip, you made it so hazzel free and relaxing for us. We have enjoyed all of it. You have introduced us to a fantastic country!
Anna.


Booqify Sri Lanka Manager
Gihan Perera

+94 777 228864
---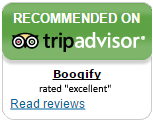 ---
---