Experience Destination Tanzania and Zanzibar Island with me!
Welcome to my profile. I am a tour guide by profession. I have a Diploma in Heritage Management and Tour Guidance obtained at the College of Humanities, University of Dar es Salaam in Tanzania. I have enough experience to assist travelers and visitors in planning their trip to Tanzania and Zanzibar for tour amd leisure. I have been in tourism industry since year 2005. Welcome!
Tours of Aloys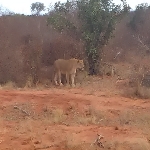 Dar es Salaam City Day tour
Places to be visited include, the museum and house of culture, botanical
$ 165 per tour
Dar es salaam City was found in 1860 by the late Sultan Majjid who stayed in Zanzibar and used to go to Dar es Salaam City for week end retreats. A City has spectacular view from the harbor, historical buildings, people and cultures.....