No matter your affiliation or knowledge, you will feel connected to and have a love for the Land of Israel and its heritage after a tour with me!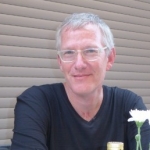 At seventeen, I went to High School in Israel and at that time decided I would own my favorite falafel stand. The falafel stand, to my huge disappointment, was not for sale.

Thirty-seven years later, and after a twenty-eight year career as a litigating attorney in Memphis, Tennessee, I finally fulfilled a lifelong dream. With my wife and four daughters, I moved to Israel. I went from the "Bible Belt" of the USA to the "Land of the Bible".

I am a guide who loves this country and all its complexities. I am grateful for the privilege to guide you through this historical and magnificently beautiful land.

In Genesis, God instructs Abraham to "Get Up and walk about the Land, through its breadth and width". Come walk with me and explore, experience and connect to Israel!
Testimonials about Alan Harkavy
Dieter H (TripAdvisor)


"Most amazing and precious time"

Review of: All Inclusive Walking Tour Old City Jerusalem

After being 3 times shortly in Jerusalem and just walking around I was looking for a private tour that realy gives an inside. We had a 7 hour walk with Alan Harkavy through Jerusalem. It was an outstanding experience outperforming my wish to understand the old and new history better. Thanks a lot. Dirk
Milena I (TripAdvisor)

The most touching and informative tour of Jerusalem with our great tour guide Alan Harkavy
Review of: Private Jerusalem City Walking Tour
I had already been to Jerusalem once the year before walking around with friends and seeing some of the important sites, so I had a taste of the old city.

What I didn't have is any of the vast amount of knowledge and genuine passion for the history of Israel that our guide, Alan, brought to our group of curious friends. Alan knows immensely much about the history of the country - that is, the history of the world - and is great at explaining the larger historic process that happened in the backdrop of specific events, buildings and people. We all wanted to hear more at every site we visited, and asked a million questions, to which Alan always had the answer and then some.

Apparently it takes 2 years of studying to become a certified guide in Jerusalem - to me it seemed that Alan had been learning about the subject matter his whole life and what's more, cares to share all of his knowledge and jokes with the others. A most touching and lovely tour of the city, I highly recommend Booquify and our great guide, Alan Harkavy.


https://www.tripadvisor.com/ShowUserReviews-g293983-d11745450-r570893302-Booqify-Jerusalem_Jerusalem_District.html#
Drew, USA (Youtube)

---
---
---