I specialize in history, security, and politics. Native English, American dialect, slight Texas twang.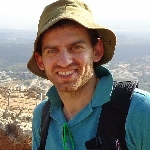 Shalom! I'm Daniel Rubenstein, or Ruby for short. I'm a licensed Israeli tour guide.

I'm known for my interactive presentations, seamless planning, and brightly colored polo shirts. (Popped collar optional.)

For most of my life, I've been learning about Israel and telling its story to others. I have guided students, families, VIPs, and more.

My professional background is in Israeli history, security, and politics, but my tours cover everything from Christian holy sites and desert hikes to Roman ruins and Crusader castles.

Contact me to learn more about how to plan your Israel journey of a lifetime. Even if i do not end up guiding you, I will refer you to those who can help plan your trip from A to Z.