Private, tailor made tours in Jerusalem, Tel Aviv and Beyond, visit Israel with Leontine, an enthusiastic, experienced guide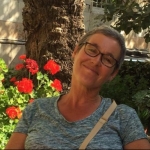 I was born and raised in Holland. After high school, I studied to become a social worker and worked one year for the social services of the city of Amsterdam.

But after having visited Paris, I fell in love with the city and eventually moved there.

I enrolled in the Tour Guide school of Paris and started working in the best profession one can imagine: I became a licensed tour guide.

I have worked with great pleasure as a guide in France and have met so many people, developed so many new tours... it was an amazing period in my life.

But my Jewish roots pulled me to Israel and after having lived for nearly thirty years in France, I moved to the Holy Land.

The only job I could imagine doing in Israel was of course being a Tour Guide, so I enrolled in the Tour Guide school in Jerusalem, and…..here I am, ready to guide you with love and enthusiasm in this amazing country.

Like in France, I want to show you the beauty of this country, tell you the long history, share my passion with you.
Testimonials about Leontine Cohen Pauka
Joan, Lakeshore travel USA

Hi,
First let me tell you Leontine took great care of my clients in Israel – they were so pleased!

Paul Carpentier, België

Dag Leontine

We zijn inmiddels weer huis van onze Israëlreis. Dit is een heel mooie en leerrijke reis geworden. Ook culinair zijn we verwend geweest en hebben een heel lekkere keuken ontdekt.

als onze reis geslaagd is, dan heb jij daar zeker een groot aandeel in. Onze rondleiding in Jeruzalem was gewoon prima en ook heel aangenaam.

Nogmaals bedankt, en je weet nooit dat we nog een keertje willen terugkeren, hoewel er in de wereld nog veel te zien en te leren valt.

Als we vrienden moeten adviseren, komen ze zondermeer bij jouw uit.

vriendelijke groeten van ons allen

Paul
Mme Cordoni

Bonjour Madame
Merci pour la photo
Et notre gratitude pour avoir au pied levé remplacé un de vos collègues.
Grâce a vos explications nous avons découvert votre merveilleux pays que vous présentez magnifiquement.Merci aussi pour votre réactivité et votre gentillesse.

Avec sympathie
Monique Cordoni
Tours of Leontine Cohen Pauka

Demie journée dans la Vieille Ville
Saint Sépulcre, du Mur des Lamentations, le Via Dolorosa, le Cardo, le Shuk
€ 180 per tour
8.30 heures: Je viens vous chercher a votre hotel.
On commence notre visite avec un point d'observation pour saisir la
Vieille Ville.
Visite de la Vieille Ville, découverte du Quartier juif, Musulman ,
Chrétien et Armenien.
Visite....

Fashion in Israel. 6 hours appr.
₪ 1000 per tour
We will visit small boutiques and workshops where jewelry, fashion and decoration designers will receive you.

They will tell you about their work, explain their inspiration and you will see them at work.

You will be able to shop or just....