Passionate Adventurer (The Leads of Karakorum)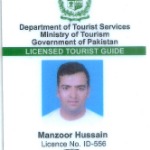 I am from Shimshal Valley. (The Valley of Mountaineers) more than 22 mountaineers summit 8000m peaks in Pakistan. I belong to a mountaineering family. Adventure is not just my job, it's my passion. I have much experience in team building activities Mountaineering, Cycling, Jeep Safaries, Yak safari, Camel Safari, Survival tours, Trekkings. Climbing expeditions, Cliff Jumping, Caving, Culture Tour, China Tours. I started work since 2005 from Shimshal Pass Round trek. My second Trek was K2 base camp & Gila. Climbing, Trekking, Exploration, Excursions, Running, Cycling, Trail breaker, Heli Safari, Off-Roading, and Biking. I 've much experience in Culture tour, Family tours, photography tour & documentary tours. I offer air safari in the northern region of Pakistan, and Buddhist monastery tours and Sikh Yatra tours. The reason I am a tourist guide is that I have a passion for my country and the best way to sell North Pakistan with all its facets are through tourist guiding which I have been doing for the past 10 years. Come visit Pakistan.
Testimonials about Manzoor Hussain Spicher
Sara & Ban

We have been home for nearly 2 weeks after our Pakistan trip. It took us a while to write this review. Not that we are reluctant or lazy to do so, but it is because we would like to sit down and write this review properly that it took so long. In our tradition, we say when we do something, we should have a good start, then in the middle, we continue to have good things and finally, at the conclusion, we should be good in the end. Rock Valley Tours Pvt Ltd, our tour agency, provides us exactly that three goodies we wanted, they really deserve a good review.
To begin with, when we started to look for tour agencies, couple with the reason that our itineraries are not common among other travellers, it is not very easy for us to find agencies willing to take us. However, even when we did find those that willing to take our case, not much progress could be made and the responses had been slow or otherwise unclear information was passed on to us. However, when we found Rock Valley, we have a turning point. The responses from Manzoor had been very swift and clear, he replied our messages even during evening and weekend. Needless to say, that had quickly helped us finalised an initial draft of our travel plan.
As we had a tight schedule during that 20 days trip, and that sometime we even need to change our schedules to a greater extend, it was quite a challenge for Manzoor to fulfil all these during the trip. However, he took care of them with great patient and adaptability personality without any issue at all. Even when Manzoor and our driver had to work till very late, they took it easily. Furthermore, he is a very experience trekker, if you need someone to guide you on a trekking trip, you need someone that not only have experience on trekking but also truly passionate about it, he is exactly one of the kinds, I wonder if anything could stop him from trekking at all! After seeing how helpful and good he had been, on the fifth or sixth day of the journey, one of us couldn't resist to tell him that he was the best guide she has ever met. And of course, she continues to feel so after the trip. It was really a goodies from the beginning to the end, nothing could we expect more!
There are many good things from them happening during the trip, but we don't think it is necessary to list them all here one by one, if you want to know more, just book your trip with them and find it out yourself.
Tours of Manzoor Hussain Spicher
Shimshal Pass (4735m)Trek 2018
Shimshal Hunza Pakistan
$ 2300 Per person
Day:01 Arrive Islamabad:

Arrive Islamabad & drive to Hotel

Dinner & night stay

Day:02 Islamabad to Naran

Breakfast & drive to Naran.

Lunch en route.

Arrive at Naran....