I lived in Australia for a long time, very diligent and enthusiatics, passionate, energetic on doing all tasks.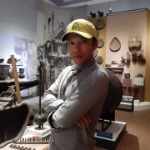 Hello my family ! My name is Bao. I graduated from the Tourism University.I have a college degree . I've been a licensed tour guide now and I have been working as a freelance English speaking tour guide for more than six years. I love my country so much and desire sharing many things to all my clients included cultures, customs, history, landmarks, daily life, cuisine, characteristic locals among regions, how Vietnam has changed a lot after 1990.

My main private tours are in Saigon city, Mekong Delta and Cu Chi tunnels. I'm confident that when you choose me for your journey, you'll not only get the hours entertainment, shopping, sightseeing and fun but also to get the experience of learning about the culture, cuisine, people and the values from the daily life of our people from urban to rural areas.

For me, my pleasure comes from your satisfaction with my tour services, not only can I inform you about Vietnamese culture, but I can also learn from you to improve myself. If you have any questions or you need any assistance, please do not hesitate to contact me. ARRIVE AS A TRAVELER & LEAVE AS A FRIEND If you come here, please click "message Bao ".
Tours of baotran
Saigon city tour by private car
The one travelling with you on the tour is not only a tour guide but also your
$ 65 Per person
Option 1: Half-day Saigon city tour by private car

Tour time: 8 am -12pm. OR 1pm-5pm



Ben Thanh market: This market was built in 1914, and also the first must-see attraction for tourist to take....
Private Cu chi Tunnels Tour
Away from 70 kilometers northwest of the city center, Cu Chi Tunnels is the
$ 72 Per person


Discover the incredibly secret network of Cu Chi Tunnels.




Crawl through the very narrow tunnels which are totally made by hand during the wartime.