Lassen Sie sich auf eine inspirierende Tour einladen, wo verwinkelte Gassen, schmackvolle Gewuerze, heilige Orte die Sinne bereichern.
Hallo,

Ich bin Ihre Reiseleiterin in dem aufregendem Land Israel.
Mein Name ist Sandra Kraus. Ich wurde in Ostdeutschland geboren und habe die Grenzoeffnung zwischen Ost -und Westdeutschland life miterlebt. Dieses Ereignis gab meinem inneren Drang freie Bahn verschiedene Laender , Kulturen und Religionen zu erleben.

Nachdem ich in England und Schottland meine Lehre als Gartentherapeutin erfolgreich beendete,zog ich 1998 in das Heilige Land.

In Israel arbeitete ich als Therapeutin mit behinderten Erwachsenen in dem antroposophischen Kibbutz Harduf im organisch therapeutischem Gartenbau sowie in der Kraeuterverarbeitung.
Hier gruendete ich meine Familie und lebe mit meinen zwei Kindern und meinem Partner in der Kleinstadt Tivon in der Jisrael Ebene.

Meine Leidenschaft und Interesse fuer dieses komplizierte Land gipfelte in dem Wunsch, Reiseleiterin zu werden und die Komplexitaet der Geschichte, Kulturen und Religionen zu verstehen und anschaulich zu vermitteln.

Lassen Sie sich auf eine inspirierende Tour einladen, wo verwinkelte Gassen, schmackvolle Gewuerze, heilige Orte, Kirchen, Synagogen, Moscheen und eine bezaubernde, abweckslungsreiche Landschaft mit den 3 monotheistischen Religionen -Judentum, Christentum und Islam verbunden sind.
Sie werden die Moeglichkeit haben, Jesus Christus Wirkens-und Leidensweg zu beschreiten und den jungen Staat Israel aus 3000 Jahren alten Ruinen emporwachsen zu sehen.

Ich freue mich auf Sie.
Bewertungen über Sandra
Marga and Wolfgang Becker from Germany

Liebe Sandra,
Herzlichen Dank fuer Deine freundliche und einfuehlsame Reiseleitung.Deine geschichtlichen Kenntnisse haben uns beeindruckt und einen neuen Blick auf das Land und die heiligen Staetten gegeben . Toll fanden wir die Zitate aus der Bibel.
Family Thomas from Wittenberg Germany

Liebe Sandra,
Vielen Dank fuer Deine vielen guten Informationen ueber Land und Leute. Wir haben dadurch ueber Israel einen sehr schoenen Ueberblick bekommen. Trotz grosser Gruppe hast Du alles gut organisiert.
Vielen Dank und alles Gute fuer Dich.
Touren von Sandra

Auf der Weihrauch - und Gewuerzstrasse der Nabataeer
Massada , Mamschit und Avdat Nationalpark
$ 270 Per tour
This Tour to the World Heritage Sites Massada,Mamshit and Avdat is available in English too.

7.30 Uhr.           Treffpunkt an Ihrem Hotel in Beer Sheva oder

Jerusalem.Fahrt zum UNESCO Kulturerbe Massada

9.00 Uhr.   ....

The dancing fisherboat
Mount of Beatitude; Capernaum,Boattrip on Sea of Galilee with Israeli Folk
$ 270 Per tour
8.00 Meeting at your hotel -Tour Language is possible in English or German
Drive /Visit  Mount of Beatitude
Drive/Visit Capernaum
Boat trip on the See of Galilee and learning to dance a  classical....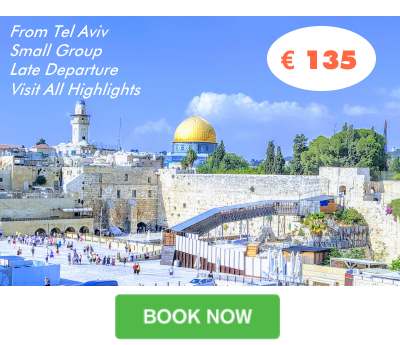 ---
Booqify Israel Manager
Menno de Vries

+972587869982
---
---