looking, watching, sighting - and seeing your own picture of this freakishly beautiful piece of land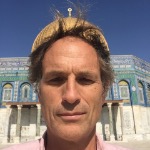 After making films and art (too heavy on the purse), and news (too heavy on the nerves) I'm now doing what I love: being outside, meeting people, learning new things, passing them on and exploring this country, the hotbed of our culture.

I'm originally from Germany, where I studied history, german literature and theater in Munich, later illustration- and experimental film studies in Hamburg. Today I live with my wife and three kids in Israel, where I'm working as a licensed tour guide.
Testimonials about Frank Henne
Dream48264570686 on Tripadvisor

Great tour from Tel Aviv
May 2023 • Couples
Perfect tour if you do not have too much time and want to see many things in a short time.
Pick up in Tel Aviv meeting point and transfer to minivan. We visited the National park in Caesarea, Haifa (just a photo stop to see the Bahai Gardens but enough), Rosh Hanikra grottoes in the border with Libanon and Akko (Fortress).
Before visiting the Fortress in Akko we had lunch in a place nearby. Food was good. Maybe some people will complain, but it was more time efficient than each one going to different places.
Our guide, Frank, was nice, well organised, good explanations and open to questions. So we just enjoyed the day!
Special mention to Guy (I think) that drove us safely
Theresa M on Tripadvisor

Most memorable trip
Jun 2023 • Family
The tour was made especially excellent by the extremely knowledgeable and cordial tour guide, Frank. Naftali's driving expertise made everyone safe and comfortable on the bus. Overall it was an enjoyable and memorable tour.

Cyril and Theresa Morrow
Florida

Written July 19, 2023

Michael G on Tripadvisor

Day Trip to Bethlehem and Jerusalem
Jul 2023 • Couples
Excellent tour with a very friendly and knowledgeable guide (Frank). He answered questions from everyone all day and had an outstanding perspective of the history of the entire area.

Written July 21, 2023
marc W on Tripadvisor

Superb, thanks to Frank~
Jul 2023 • Family
Superb thanks to tour guide Frank, whose keen personal observations, wit and care for the history and peoples made it all worthwhile, especially on a super hot day. Plus I personally wasn't crazy about being in the Dead Sea (it stings sensitive skin!), but it didn't matter! Frank's color commentary on everything from Herod the Great to the real 'milk and honey' and beyond made it a day to remember!
Belinda on Tripadvisor

Amazing and well organized
The tour was amazing! I want to thank Frank and Tony for answering all my questions I would definitely recommend it to anyone


Written August 2, 2023

Iliescu Serban on Tripadvisor

Top Notch
Sep 2023 • Couples
Never mind the fact that the subject of this trip was exceptional, but the organization of this trip was perfect. We saw the difference between a boutique trip and a normal trip everywhere in Jerusalem where we encountered other large tourist trips. Everything was top notch starting with the pick up points, the trip to and from Jerusalem, the objectives we have visited and the lunch. Frank, as the Guide, was the perfect, providing essential info on each and every point of interest as well as on the way to and from. Tony, as the driver, made sure that the whole trip went smoothly, and he was there on time to pick us up on each occasion. Thank you very much. Mihaela and Șerban Iliescu from Romania.

Written September 15, 2023
nurseMNB on Tripadvisor

Must do Jerusalem tour
This was a fabulous tour! We were picked up on time in Tel-Aviv and had a nice drive to Jerusalem. Frank gave us lots of information on the drive so it was very enjoyable. We arrived and started our tour. Again Frank was very good and giving lots of valuable information. All the sites are just incredible to see. We had a wonderful lunch at a rooftop restaurant and were advised what shops to avoid and which shops could be trusted (but we were not made to shop ever, we could leave lunch a little early and shop if wanted). We chose to stay in Jerusalem after the tour (you have the option of using it as a transfer or returning to Tel Aviv). Would definitely recommend this tour!!

Written September 30, 2023
buaya00 on Tripadvisor

Everything you expect
May 2023 • Solo
Frank was amazing. Wealth of knowledge. He was very detailed in explaining the history of each place we visited. Managed to cover a lot in a day. Worth every dollar. Highly recommended.
Richard McClerin

Jerusalem tour May 17, 2023

Frank

My wife & I really enjoyed tour with you and Tony on 5/17/23. This was the best tour I have ever been on, thanks to your professional guidance.

I am that crippled old guy on the walker. I did not want to hinder the rest of the group because of my mobility issues. I learned a lot from the excellent info you provided and am now interested in learning more about Israel , I will start a personal reading program to become better informed and we hope to return for repeat visit to this wonderful country soon.
I truly enjoyed being w Tony while the other guests rook the more normal walking tour. Tony showed me a wonderful opportunity to enjoy local culture I saw a brief look atThe real world which includes smoking Shiska and the hooka with real people it was a cultural experience for me to see and enjoy a side of Israel not experienced by many visitors and will always be remembered as being something special for me. Thanks to Tony for this special experience I hope you and you family much happiness and pleasure . Say hello and thanks to Tony for me!

Regards
shezwod on Tripadvisor

Tip Top Jerusalem Day!
Apr 2023 • Couples
Excellent day….. one of the best day trips with a guide we have ever done.
Frank is excellent; very personable & knows his stuff!
Written May 1, 2023
Alex L on Tripadvisor

Great tour - ask for Frank as your guide!
Apr 2023
This was an excellent tour that I would highly recommend. From our super nice driver Eyal to our amazing tour guide, Frank, we had the best time. Frank is super knowledgeable and personable; it was so easy to listen to his stories and soak in the history. He really made the difference in the trip for us. I've experienced a lot of tour guides lately and Frank really stands out as a top guide. We packed a lot into our day and it was lovely to have a delicious lunch with a view. Totally unexpected treat! We had such a fun and memorable trip. Thank you for the wonderful memories!
Written May 9, 2023
Ingrid B on Tripadvisor

Boutique Tour to Jerusalem
May 2023 • Solo
Best Jerusalem trip ever! Small, personable, and great information given throughout the day. Frank (guide) and Eyal (driver) were patient, kind and knowledgeable. Don't book a tour to Jerusalem with any other company.
Written May 17, 2023
Adam R on Tripadvisor

Fantastic Guide!
May 2023 • Friends
This was an excellent tour. It was a hot day and Jerusalem is a busy place, but Frank was a fantastic guide. Frank gave us a helpful primer on the biblical history on the drive up, but the real value was his being a personable and informative guide when we got there. He had granular knowledge of the places we visited and did a wonderful job of painting a picture of how things were in historical times, not just how they look now. He was warm and engaging while keeping things moving without us feeling like we were being corralled. The tour covered a lot of ground, but didn't feel rushed. I would definitely use this tour for this or any other excursions they offer.
Written May 18, 2023
Maria Isabel on Tripadvisor

The best tour!
May 2023 • Solo
Frank was an a outstanding tour guide. The group size was small and the van was very comfortable. The way the tour was organized was just fantastic and I had a blast. Would recommend 100%
Written May 18, 2023
Catherine E on Tripadvisor

Jerusalem
May 2023
Frank was a great tour guide; he was very knowledgable and provided us with a considerable amount of historical information about Jerusalem. He was very friendly, had a great sense of humour and did a super job keeping our group organized and making sure we saw as much of the old city as possible. Lunch was really good and the bus was very comfortable. Pick up and drop off times were accurate. I would highly recommend this tour with Frank!
Written May 24, 2023

GoPlaces48533046087

Amazing Jerusalem tour
May 2023 • Solo
Amazing tour and guide, Frank was delightful. He spoke about the places visited which was so interesting!
Written June 4, 2023
Shalina on Tripadvisor

Wonderful tour in a small group setting

We had a wonderful time with our guide, frank. He was super knowledgeable, energetic, and relatable. We had a great time and lucky for us, we ended up in quite a small group!

Written May 26, 2023
Bryn M on Tripadvisor

Excellent Tour
Thank you, Frank, for an informative and entertaining tour, striking just the right balance between the two. Frank is clearly knowledgeable and easygoing, happy to answer any questions and discuss various with the group. We enjoyed the group lunch, a delicious mix of small plates and the view was breathtaking. We'd also like to compliment Frank on how he handled being provoked and have his words taken out of context continuously by another person on the tour. He was kind and answered all their questions politely and thoughtfully.
Written April 25, 2023
Global 3674 on Tripadvisor

Great tour, great guide
Apr 2023 • Couples
I can highly recommend the tour to Jerusalem. The tour guide was from Europe himself and led the tour in an interesting way. The historical details were interesting but not too overloaded, at the same time he was able to bring in his point of view, also the ambivalence of the country, the problems that arise from the coexistence of different ethnic groups, the historical burden and also the conflicts of the present that go along with it.
The size of the group was pleasant (18 people) and allowed enough questions. Overall a great tour and tourguide.
Written April 27, 2023
Loreta R on Tripadvisor

Beautiful day in Jerusalem
Mar 2023 • Couples

We had a great time on a tour to Jerusalem with Frank. Everything was perfectly planned and delivered with exceptional quality.

Written March 10, 2023

Sophie F on Tripadvisor

Small and personal tour
Jan 2023 • Couples

We took a tour to Jerusalem accompanied by Frank.
It was our first time there and I would recommend anyone who is a little concerned about what the news are telling us to do the same.
I love the fact that the tour is only a small group so you don't end up in a huge bus.
The tours leave don't leave too early so this allows you to enjoy your breakfast at your place.
They don't take you on a shopping trip but allow you to do so during lunch.

Frank took the time to share some historical info on our way into Jerusalem which was very helpful too!

Thank you for taking us around this magical place.

Written February 23, 2023

Beny from Tel Aviv

December 2022

Hi frank,
Good morning.
I wanted to thank you for traveling together yesterday.
I have learned a lot from you.
I appreciate your kindness and passion to guide.
See you in the future.
Beny
Klaus und Silke aus Hamburg

Hallo Frank,
wir möchten uns für die kompetente Führung in Israel herzlich bedanken. Die Tage in Tel Aviv waren noch sehr toll haben viel gesehen. Jetzt sind wir im trüben Deutschland und denken an die tolle Reise mit dir.
Liebe Grüße Klaus und Silke
Nina_H on Viator

Great experience, Sep 2022
Frank was a wonderful guide. He did well to explain each of the sites along the way. I would recommend this tour.
Judy on Tripadvisor

This is your sign to book the Jerusalem Boutique Tour!!!!!
Nov 2022
What can we say…. This tour was simply amazing!!!! Anyone wanting to visit Jerusalem should book this tour because you just won't regret it. The whole experience was so well organised from pick up and drop off points, the strong wifi on the bus (sooo important for tourists), and the gorgeous restaurant we went to for lunch. We were so impressed!

Our group was quite small, so I think this allowed for a very unique and personalised experience. Our tour guide Frank was a superstar!!! The knowledge he shared throughout the tour was mind blowing. He was kind, thoughtful and caring, but also really funny, which created such a wonderful atmosphere for all of us.

I would definitely do this tour again or any tour with Frank and his team, as it was such a special experience.

This is your sign to book this tour, you definitely will not regret it!

Written November 26, 2022

John B on Tripadvisor

Great energetic tour
Sep 2022
Frank was a great and energetic guide. The small format meant we could ask plenty of questions and explore different areas the larger groups missed.

Written September 24, 2022
This review is the subjective opinion of a Tripadvisor member and not of Tripadvisor LLC. Tripadvisor performs checks on reviews
era C on Tripadvisor

Amazing Jerusalem
Oct 2022 • Couples
Excellent tour. Our tour guide Frank was very knowledgeable, with great sense of humour and very accommodating. We really enjoyed this day

Written October 9, 2022
This review is the subjective opinion of a Tripadvisor member and not of Tripadvisor LLC. Tripadvisor performs checks on reviews
John P on Tripadvisor

What a life experience
Frank was fantastic, knowledgeable and funny. He managed to get us in to the wailing wall at a challenging time. What a fab day.


Written October 14, 2022
This review is the subjective opinion of a Tripadvisor member and not of Tripadvisor LLC. Tripadvisor performs checks on reviews
Sue C on Tripadvisor

Liverpool, UK68 contributions

Jerusalem with Frank
Oct 2022
Picked up in Tel Aviv 5 minutes before schedule. Our guide Frank was great - all day he kept us informed of / amused by what we were seeing en-route (eg. "the Space Station") and once we got to Jerusalem was full of knowledge of all the sites we saw. It was a busy, full day but we knew it would be. Because it was a holiday it was very crowded but being a smaller group we managed to wriggle through where other groups couldn't - a definite bonus. The trip did not disappoint and I would recommend a small group tour - THIS small group tour to others.
Fabulous !!
Thank you.

Written October 19, 2022
This review is the subjective opinion of a Tripadvisor member and not of Tripadvisor LLC. Tripadvisor performs checks on reviews
Tracey on Tripadvisor

Tracey

Bath, UK108 contributions


Fantastic Frank

Fantastic Frank our tour guide made the experience all the better. Utterly blown away by the place and I'm well travelled. Highly recommend and would return.

Written October 25, 2022
This review is the subjective opinion of a Tripadvisor member and not of Tripadvisor LLC. Tripadvisor performs checks on reviews
emily f on Tripadvisor

TripAdvisor 22. September 2022

Frank For President!

We absoultely loved our tour of Jerusalem, hosted by Frank. He was extremely knowledgable ad had such a great sense of humour. This is really the perfect tour, as. you have the luxury of a smaller group, allowing a more personalised experience and very comfortable transportation to and from Jerusalem. Thank you so much to Frank, he really made our day the best it could have possibly been.
Zach on Viator

Absolutely amazing
Jerusalem Boutique Tour from Tel Aviv

Our guide was Frank. I'd request him if you can. His job is to essentially explain things that be very boring unless you are a Bible major. He does it in such an entertaining way and so informative. I was here for work, and hesitant for a 10hr trip alone. I can't tell you how happy I am to of gone. It was literally INCREDIBLE. Seriously one of the best experiences I've ever had. Don't be cheap a bad driver and guide can ruin your day.
Philip R. Vienna, Austria (on tripadvisor)
Amazing, thank you for this great tour!

We did this tour during our 4-day Israel trip. This tour was literally amazing, we can highly, highly recommend it. Our tour guide was Frank, who was extremely knowledgeable and told each story with lots of charme and humor. Thinking about it, Frank was probably the best tour guide we ever had - big thumbs up, 5 stars and more!!!!
KayDawn97 (Tripadvisor)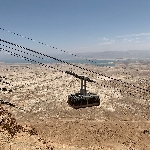 Hot but Wonderful
Tour guide was Frank. He was very good and informative even on the drive there. Masada was beautiful, though hot, and he gave us a ton of info while there. Getting to see some of the original architecture and setup of King Herod's palace was wonderful. Masada is hot and direct sunlight most of the time so be prepared. Went to lunch after that where there is also a souvenir shop. Then we went to the Dead Sea which is beautiful and salty. Spent an hour there and there is a souvenir shop as well.
Venetia (Great Britain)

Frank I'm SO sorry for my late reply. I was arguing with my dad about who was booking the guide. I wanted to get you because Olivia spoke VERY highly of you. Just to let you know I've also sent your number to some friends who arrive in Israel today who are staying in tel aviv and want the Jerusalem day trip.
Olivia (Great Britain)

Thanks so much for today, Frank! We had such a great time and loved your guiding. The best! Thank you again

Olivia
Nathan S. (USA)

Frank - thank you for an unforgettable day in Jerusalem - far exceeded all my expectations and really enjoyed seeing the "off the beaten" path sites and experiences.

hope you will continue to consider Jesus outside of the way religion and politics have twisted and distorted Him.

Blessings to you and your family,

Nathan
John (USA)

Hello Maria,

Frank was a great tour guide. He is knowledgeable, warm, and caring.
I am looking forward to the next tour with Frank.

Best regards,
John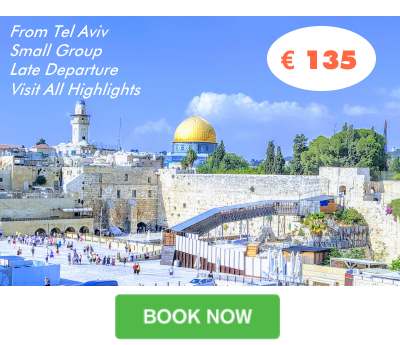 ---
Booqify Israel Manager
Menno de Vries

+972587869982
---
---