I have excellent communication skills with the ability to learn quickly.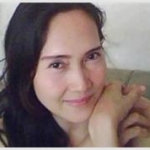 I have acquired the research skills to learn all of the important data concerning the tourist sites and I have a photographic memory with the ability to retain what I learn, so I can provide the tourists with accurate information.n addition to providing information, I have the skills to make the tour interesting and fun for the tourists, making it an event they will be talking about for a very long time. This encourages repeat business and it will help draw in new clients. have an upbeat and friendly personality and I love meeting and talking with new people. I also love traveling, so this is the perfect career for me and I would like to share my enthusiasm and skills with your company. I am available most anytime for interview and I look forward to meeting with you soon. To all Japanese people I know how to speak Niponggo....mina san Yoroshiku onengaishimasu
Testimonials about Editha
Antonio C.

Excelent professional, very nice person, interested in satisfy our wishes, was a big pleasure to spend a day with her. In the end, thanks to her, we had the pleasure of knowing this marvelous town. Thank you very much dear Editha.
All the best António and Marta