In this tour we walk through the old city of Jaffa, one of the oldest port cities in the world, which has been conquered and administered by many different peoples: Egyptians, Romans, Muslims, Crusaders, French (Napoleon), British and and now by the Jews.
It was from Jaffa that Peter headed west to spread Christianity to the non believers and it was from Jaffa that the Jews, at the end of the 18th century, went to the North to start Jewish settlements. After leaving the Old City we visit the last remaining houses of the first neighborhood outside of  the walls; the American Colony from 1866. From Jaffa we go to Neve Tzedek, the first Jewish neighborhood outside Jaffa and a prime example of gentrification.
In 1909, after many more small neighborhoods were build, affluent Jews who arrived mainly from Eastern Europe, wanted some quality as well and decided to built a neighborhood with electricity, running water and a sewage system. The name of this neighborhood, Ahuzat Bayit, was changed to Tel Aviv the year after. We will pas the Museum of Independence, the site where David Ben Gurion declared the founding of the State of Israel. From Ahuzat Bayit we continue on Rothschild Boulevard, walking through the largest concentration of buildings in the International Style in the world which the UN awarded the Unesco Heritage status.
After seeing some of the nicest eclectic style building we will pass the Great Synagogue and finish in the first Skyscraper of the Middle East, the Shalom tower.
Jaffa is a mixed city with both Arabs and Jews living in it. During the tour you will also get some history about the relationship between the two groups over the last 100 years.
At the end of the tour feel free to ask for restaurant, bar, beach and museum recommendation and how to go around in the city.
Searching Availability...
Start: St Peter's Church in Jaffa
Duration 4 hours
$ 29 per tour per person.
Drinks and meals are not included.
Maximum 15 participants.
All tour guides are officially licensed by the Ministry of Tourism of Israel.
Modest dress (no shorts or sleeveless shirts) and head covering are required for visiting holy sites.
Booqify is a network of independent professional tour guides in Israel.
With us you will be sure to be guided by a passionate, knowledgeable and officially licensed tour guide.
Click to see who we are and what others write about their experience with us.
If bookings are full or closed you can call us on 00972 – (0)54 312 12 20 for last minute arrangements.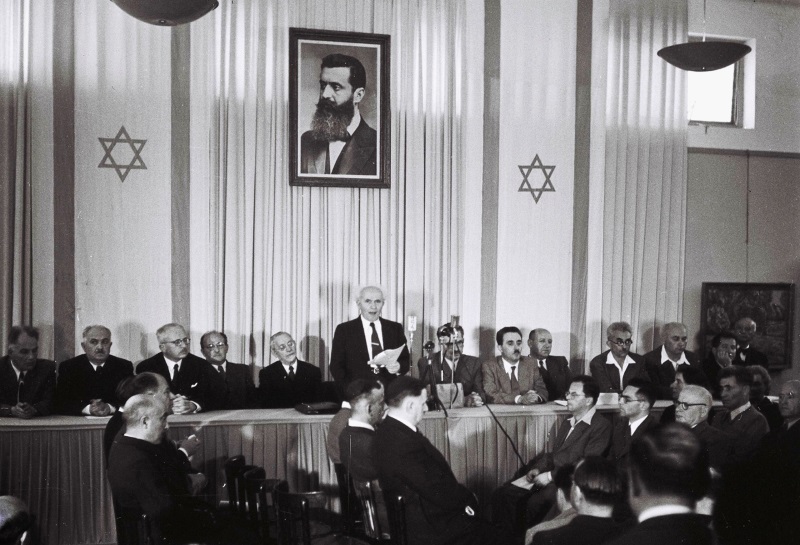 David Ben Gurion reads the declaration of the Independent State Of Israel in 1948, we will visit this location




;