Booqify Qualified Tour Guides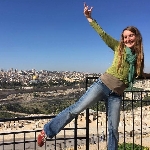 Eva Greenhat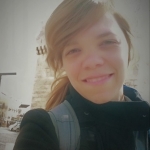 Agustina Efrat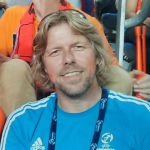 Menno de Vries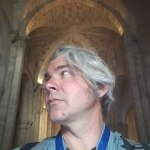 Shimon Craig Pa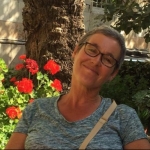 Leontine Cohen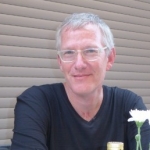 Alan Harkavy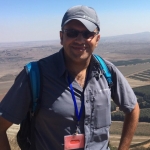 Tareq
After meeting with your private guide you leave Jerusalem and exit Israel through on of the checkpoints to enter the city of Bethlehem where you will drive through the Old City neighborhoods before arriving at the main Manger Square. Here we meet a local guide who will join us in the Church of Nativity, the oldest church building in the Holy Land and the place of birth of Jesus. Next is a short walk in the Old City to the Milk Grotto and as you wish continue to visit the Shepherds Fields and/or the separation Wall graffiti. Just before going through the checkpoint again you stop at a high point for a view of the area.
After visiting Bethlehem we descend 1200 meters to the lowest point on Earth into the Jordan valley. On the way we pass the Greek Orthodox Monastry of Saint George, the Inn of Good Samaritan (now a museum of Mosaics) and the oldest city in the World: Jericho. A visit to one of these sites can be included in the itinerary.
At the Dead Sea we will visit a private beach for a unique combination of wild desert nature, the sea and the famous black mud, where you have the opportunity to float.
Extra options to visit:
Qasr al Yahud, Baptismal site, no entrance fee
Qumran National park, where the Dead Sea scrolls were found, entrance fee: NIS 29, child NIS 15
Ein Gedi National Park, Oasis at the Dead Sea, entrance fee: NIS 28, child NIS 14
Jericho Cable car to Quarantal, site of the Temptation of Jesus, entrance fee: NIS 60
Inn of the Good Samaritan Museum, entrance fee: NIS 25, student NIS 19, child - NIS 10
Masada Desert Fortress. Extra costs: $50 plus entrance fee NIS 74, child NIS 42, student NIS 63
Our service
Your private tour guide will contact you after your booking and customize the itinerary for and with you.
Searching Availability...
Pick up and drop off : your hotel in center of Jerusalem
$ 750 per tour for 8 hours for max 6 persons.
We request a payment of $450 online, the rest you pay to the guide.
Private tour with an English speaking private guide exclusive for you.
Spanish, Russian, French, German, Dutch speaking guide guaranteed if you book two weeks in advance.
All tour guides are officially licensed by the Ministry of Tourism of Israel.
Entrance fee to Private beach included. other entrance fees, drinks and meals are not included.
Transportation is included.
Modest dress (no shorts or sleeveless shirts) and head covering are required for visiting holy sites.
Cancellation Policy: If you cancel at least 10 days in advance of the scheduled departure, there is 100% refund minus transaction costs. If you cancel between 4 and 10 days in advance of the scheduled departure, there is a 50% refund. If you cancel within 3 days of the scheduled departure, there is no refund.
Booqify is a network of independent professional tour guides in Israel.
With us you will be sure to be guided by a passionate, knowledgeable and officially licensed tour guide.
Click to see who we are and what others write about their experience with us.
If bookings are full or closed you can call us on 00972 – (0)54 312 12 20 for last minute arrangements.