Testimonials By Moustafa Sanad
Egypt Excursions with Moustafa

Pei from Malaysia in front of pyramids

Great trip in Egypt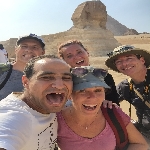 Memorable trip with my wife and our friends. The itinerary planned by Moustafa has given us a great overview of the main attractions but also a nice proximity with locals. I highly recomment the Nile cruise and the hot air balloon ride (over the Valley of the kings). We spent few days Hurghada to rest and enjoy the Red sea beach.

We felt secure all along those 14 days and Egyptians are welcoming and very gentle.
AMAZINGGGG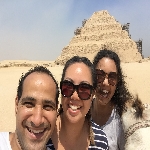 Thank you Moustafa for our lovely time in Cairo! You were friendly, funny, informative and enthusiastic and it was very clear you love what you do which made us also fall in love with Egypt!

Myself and a girl friend, both mid-20s travelled together. I contacted Moustafa in May for our August trip. He was prompt in replying to our emails and even called to confirm our two day itinerary. We wanted to cover ALOT in two days and he made sure we did it all without feeling rushed or like we didn't properly cover our itinerary. In fact he went above and beyond our itinerary and added in extra sites and took us to great places for amazing Egyptian food as well as really experience Cairo life, like taking the Metro and the local taxis etc. The hotel he suggested and booked for us was also very accommodating with great service. He also made suggestions (without being pushy but simply suggesting) which we are very glad he did. For example, the camel ride to the other side of the Pyramids of Giza with an incredible view of all three Pyramids and the Tanora show in the evening. He also took us to see a carpet school, papyus making shops etc , all with great hospitality and never pushy for you to buy. I have seen a few people's reviews saying Moustafa tours are expensive but for what you get it certainly is not! It is incredible value for money as he made sure we did more than just our itinerary! Thank you again Moustafa! You are AMAZING!
Canadians in Egypt

Nazim at Pyramids

Hudson family touring Egypt with us