3 Days Sipi Falls Tour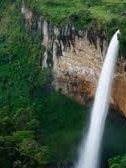 Day 1
Sipi Falls Tour


Set off early from Kampala (or Entebbe) passing through Mabira Forest and over the River Nile, the longest river in the world. Don't worry; you'll be stopping off here on your way back! You'll continue east and up into the foothills of Mount Elgon, an extinct volcano, which straddles the Uganda/Kenya border to reach Sipi Falls. You should arrive at around midday, in time to settle down for your lunch overlooking the main waterfall. In the afternoon you'll meet your guide who will take you off on a coffee processing tour, through the farms and along the hillsides. You'll pick, prepare and roast your own coffee beans; hopefully resulting in a tasty cup of coffee! Coffee is widely produced in the region and an important source of income to local farmers. You'll end your day by taking a short stroll up to the viewpoint on the ridge to watch the sunset over the plains west into Uganda before dinner.


Day 2
Sipi Falls Hiking and Rock Climbing


This morning you'll be heading out on a guided three-hour walk to explore the set of three waterfalls that make up Sipi Falls. Your guide will be able to explain the formation of the falls to you. They will also be able to identify the local birds, trees and plants along the way and describe the local traditions of the people living around Mount Elgon. In the afternoon you are free to relax and enjoy your surroundings or there are a number of activities that can be arranged for you (for an additional cost*). Sipi falls has a wide variety of birdlife and you can go birding with a knowledgeable guide to take you to the best spots. You can also take the chance to go fly-fishing on Sipi River with all equipment available for hire and tuition available on request. And if you're more of a thrill seeker, there are a couple of options for you to enjoy such as rock climbing and abseiling along the side of Sipi's highest waterfall's 100 metre drop!


Day 3
River Nile


This morning you'll be leaving Sipi Falls behind you and start the return journey back to Kampala (or Entebbe). After a few hours you'll reach Jinja town where you'll be stopping off for lunch beside the River Nile. You'll then take to the water to the source of the world's longest river on at the edge of Lake Victoria. After your boat cruise, you'll be crossing back over Owen Falls dam and through Mabira Forest where you should keep your eyes peeled for red tailed monkeys, and a complete your journey back to Kampala (or Entebbe).


Minimum number of persons:
Maximum number of persons:
Coffee tour - Sipi waterfalls walk (Sipi Waterfalls) - Source of the River Nile boat cruise (River Nile) Wildlife & Tracking Permits, Bottled Drinking Water, all meals, full time use of a Private Vehicle (as per your itinerary) A Full-Time Private Dr
Alcohol, Laundry Souvenirs & items of a personal nature, Personal Insurance, International or Domestic Flights Visas