To provide an excellent and informative tour guiding to Dubai Visitors, ensuring they have the opportunity to experience the best, our Emirate has to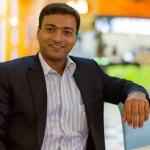 I am a Authorized Tour Guide where I manage tour related operations that include meeting and assisting the tourists, tour guiding especially Dubai, Abu Dhabi, Sharjah City Tours, heritage tour, shopping tour etc. to a wide range of nationalities including Norway, Denmark, UK, Ghana, India, Vietnam, Indonesia etc.

I have also closely worked with the company's operations team,coordinating travel arrangements and assisting in the travel requirements for the smooth conduct of the tours.
Testimonials about Thomas
Emmy, Chad and Zacharia

Mr.Gordon DiRenzo

From: Gordon DiRenzo
Date: 11 May 2016 at 23:46
Subject: Re: TRIP with Mr. Gordon
To: siju thomas


Suji,
Many thanks for sending the photos. I was wondering what happened. Glad you found your phone.
If you have other photos taken on our trip, ones in which I am not included, I should very appreciate having them.
Thank you again for such a fantastic tour. Hope my comments helped you with your employer.
My best wishes to you, your wife and daughter.
Gordon DiRenzo

Sent from my iPhone

Mr.Gordon DiRenzo

From: Gordon DiRenzo
Date: 11 May 2016 at 23:46
Subject: Re: TRIP with Mr. Gordon
To: siju thomas


Suji,
Many thanks for sending the photos. I was wondering what happened. Glad you found your phone.
If you have other photos taken on our trip, ones in which I am not included, I should very appreciate having them.
Thank you again for such a fantastic tour. Hope my comments helped you with your employer.
My best wishes to you, your wife and daughter.
Gordon DiRenzo

Sent from my iPhone