Get ready to get off the cliche parts and see the real city using public transportation and meeting with the locals directly!!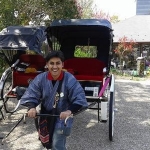 Born in Mumbai, India, Viren is an enthusiastic and innovative person whose dream is to help get the world together through Cultural Understanding. Having worked in the field of Hospitality for Five Years under coveted Domestic and International Brands, he is also a Freelance Travel Writer and currently writes for many publications including This Week, Mauritius and has his own website and cultural channel WHYWEDOWHATWEDO.

Viren is deeply passionate about travel and general philosophy as his motto in life is "Provocans ad Voldum", Latin for Provocation to Fly. Provoke the other mind to fly to new horizons such that realizes that life is not always the way he looks at it.

Our tours aim to not only enable the tourist to see the real city shadowed by a Business Hub but also to re-instill a sense of pride and awareness of the local, of the treasures waiting to be discovered in his own backyard. We dare the cater to the "What Else" factor and ensure our clients have "Fun" along the way.

All our tours are all inclusive and we aim at maximizing people to people contact. Our tours are based on discussions in the light of Philosophy, Psychology, Religion and Economics.
We do not own nor hire cars as we wish you to have the complete local experience.
Testimonials about Viren Adolf D'Sa
Created Itineraries - Jane from UK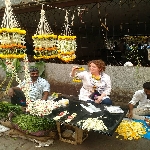 I had 2 free days in Mumbai after a business conference and really wanted to visit and understand more of this amazing city. Viren was recommended to me as a guide. He was a fantastic guide and showed me areas and aspects of Mumbai that I would never have explored on my own. He also shared lots about the history and culture of Mumbai and India which was fascinating. The bus, train and auto rickshaw rides, navigating the traffic on foot, the markets, Worli fishing village, Dharavi, and the warmth of the locals are all things I will never forget. 2 great days with lots of fun as well as lots to think about. Thank you Viren!

https://www.tripadvisor.in/ShowUserReviews-g304554-d9806289-r477352960-Zamorin_of_Bombay-Mumbai_Bombay_Maharashtra.html#
Elephanta Island by Jana from Czech Rep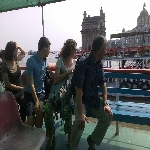 For our last morning in Mumbai, before leaving for other places in India, we booked the Elephanta island tour with Viren. Already during our email exchange we received a nice surprise, a small detail, that clearly showed us how serious he is about his idea of tours full of local experience and culture exchange. On the day at the end of the visit we simply couldn't understand how many practical insights into the life in India this man succeed to insert into a very simple trip plan – get on the boat, visit the caves, get back by boat again!
While waiting for embarkation at Gateway of India, he used sights around us to introduce us into Indian history and the present, tying his vivid telling to OUR history and the present. Great for realizing how interconnected we all are in fact. Not always we shared the same opinion, but it was engaging to see how opinions can differ based on a local/foreigner point of view.
When getting on the ship, Viren offered some practical advise on how to move in public transportation in general, while taking pictures, he not only showed the best spots or took funny photos of us himself (at the helm, silly Bollywood-like,...), he advised on with/of whom make a photo and with/of whom rather not, when we wanted to buy something, he added some hints about bargaining or how to get rid of importunate sellers. While ordering a drink at a stall (how to choose a hygienic safe stall), he explained how, what is it made of and good for what the drink is, or he didn't hesitate to sacrifice his bottle of water just to show us how impudent and skilful local monkeys are in getting into them.
He took his time to joyfully teach us some basic words and numbers – the thing that later, unintentionally, earned us a better place in an overnight train (after bumping into guards and having a cheery "chat" in "hindi" with them). For Viren every moment was right to let us experience the local life rather than just watch it – monkeys, cows, ordering food and drinks, hopping on a tourist train on the pier... Even a seemingly dull moment of ship crossing he enlivened by gull feeding.
All our family (including our 17 and 18 years old children) agreed that Viren's tour had been like an amazing interactive introduction into Indian society that we should gone through straight at the beginning of our stay in India. It offered some essential insights into the local culture - knowledge that we utilized with gratitude several times afterwards. But – never is late! After all, it is not a number of heritage sites visited, it is understanding that we take back home and feelings that stay with us.. Thanks for the wonderful experience, Viren!

https://www.tripadvisor.in/ShowUserReviews-g304554-d9806289-r477352960-Zamorin_of_Bombay-Mumbai_Bombay_Maharashtra.html#
---
---