Israel is totally fascinating with its complexity of history, religions, politics, cultures - but mostly, with its people and vibrant everyday life!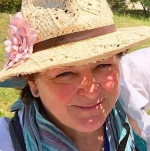 I have lived here altogether for more than twenty years, commuting with my home in Norway.
There is nothing I like more than showing people Israel, so that they can get a taste of this multifaceted society. In addition to all the historical sites, there is modern Israel with its unbelievable mix of cultures, music, dance, arts, high-tec, inventions, and so much more. Around every bend you meet people from all over the world, hear all imaginable languages, taste all kinds of interesting food and can dance to different rhythms of the planet. There is no place in the world where you can see so much diversity in such a tiny place, in a country that has both deserts and beautiful beaches; on the Mediterranean, on the Sea of Galilee, by the Dead Sea and by the Red Sea.
So, please, let me show you how and where you can enjoy colorful and fabulous Israel!
Testimonials about Ruth
Linda Oftedal Jakobsen, Norway
February 2018 a Norwegian Group visited Israel.
Ruth Egdi is very well educated, and she gave us information about the places we visited in a professional way.
She is a dedicated guide, very empathetic and professional dealing with people.
The way she cooperated with the bus driver and the Norwegian group's leader was excellent.
The whole group loved her.
We want to go back to visit Israel and want her as our guide.
Tours of Ruth

Old City of Jerusalem. Walking tour 5 hours
Mt. Zion - Western Wall/Wailing Wall - (Temple Mount) - Via Dolorosa - Holy
$ 240
Jaffa Gate- Mt. Zion - Jewish Quarter- Western Wall/Wailing Wall - (Temple Mount) - Muslim Quarter - Via Dolorosa - Holy Sepulchre - Christian Quarter - Markeds - Jaffa Gate
We will stop for nice views, a taste of hoummus and knaffe and more......

Full Day Jerusalem Walking Tour for Christian Pilgrims (who enjoys walking)
Mt. Zion, Gethsemane/Mt. of Olives, Via Dolorosa, Holy Sepulchre Churh/Garden
$ 300
Meeting point: Jaffa Gate- Ramparts Walk to Mt.Zion - Visit Coenaculum, viewpoint on the roof, visit the Dormition Abbey, St. Peter in Gallicantu. Walk to the Mt. of Olives, see the Temple Mount from Dominus Flevit. Walk back to Church of All Nations in Gethsemane.....
---
---
---