In my belief, Zionism created the biggest of all miracles that happened in the Holy Land.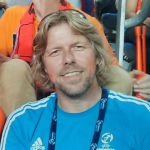 Hi there and congratulations with your decision to visit Israel.

I will be happy to share my time, knowledge and experiences with you if your goal is to have an interesting , pleasant and amusing stay in Israel.

This is a truly unique destination because of its history, geography, biodiversity and political impact on the world we live in. To use a tour guide during your visit is another good decision and will make your stay more fascinating, thought-provoking, stimulating and your memories last longer.



About me
I was born in Amsterdam and made my first trip to Israel as a teenager in the summer of 1987. It was the last year that Israel was known as a hitchhikers paradise as the first Intifadah started at the end of that year. Another thing that was possible then was taking a bus to Cairo. I took the bus and afterwards made dozens of trips back to the Middle East, travelling through all neighboring countries but mostly returning to Israel.

Here I volunteered multiple times in a kibbutz, organized a study tour for my University and tried to set up flower farms in the Gaza strip.

My three children were born in Israel, the eldest is currently serving in the Israel Defense Forces.

In 2008 I finally made Israel my home and I have been living in Tel Aviv since.

After selling my internet company I fulfilled a life long dream: a two years intensive course to become a licensed tour guide.

Ever since I have been guiding groups and individuals around the country. I am available for guiding, starting from a few hours, in Tel Aviv or Jerusalem, day trips to amazing sites like the Dead Sea, Ceasarea, Akko and Bet Guvrin to multiple day trips including beautiful and exiting nature hikes.

Click on My Tours to see a few possible itineraries that I did before or mail me what you have in mind.

Anyways, whether it's me or someone else from the pool of thousands of the best guides in the world (according to international tour operators) who might guide you, I sincerely wish you an amazing time visiting Israel.



Ilse S (Tripadvisor)
"Absolutely amazing experience!"

I visited Jerusalem with Menno for a solo tour in early January. It was an absolutely amazing experience, one to never forget. Menno is extremely smart, fun, and knowledgeable, he was able to tell me every detail about the history and also the situation in Israel nowadays. We visited the old town and mount of olives, where we walked around and he was able to explain and point out all important and historical sites. What I truly liked about Menno, is that he is very down to earth - he will explain you the history as is, including what is substantiated by archeological research (and what not). So you will hear the true story, he will not tell you fairytales. Something I could really appreciate. Menno took me for lunch at a great falafel place, one I would never have found myself. And he knew where to get the best coffee in town ? I would highly recommend Menno as a tour guide, it makes no sense going by yourself - I\'m sure you will only get maybe 10% of what is such a stunning and impressive place on earth. Go with Menno to get the full 100% (actually even more then that) Its totally worth it!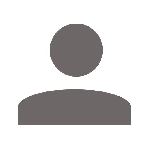 2 daags Tour met ons gezin en gids Menno helemaal top! (Tripadvisor)
Wij hebben met ons gezin bestaande uit 8 personen een 2 daags Tour in Jerusalem en naar de dode zee gemaakt. Gids Menno de Vries heeft de 2 dagen samengesteld en ons in 2 dagen de vele bezienswaardigheden die Jerusalem te bieden heeft laten zien en ons de cultuur van Israel/Jerusalem laten proeven. Menno de Vries is een relaxte gids die het gezin weet te boeien met zijn kennis over Jerusalem en het weet te koppelen aan de bijbel en feiten. Hij heeft alles prima geregeld, van de privé bus die ons kwam ophalen de 1e dag tot aan de heerlijke lunches. Menno is een hele fijne gids en is heel gemakkelijk in de omgang, beantwoord al je vragen en legt alles zó uit dat je het ook echt begrijpt.
Kortom wij hebben 2 fantastische dagen gehad en hebben van begin tot het eind genoten, een echte aanrader!!!

Fam Strijd, Noordwijk, Netherlands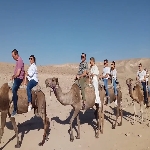 Nogmaals bedankt Menno voor deze onvergetelijke dag! (Tripadvisor)
Wij zijn met een kleine familie op stap geweest met Menno. Ons gezelschap had een behoorlijk leeftijdsverschil, ouders die 60 jaar getrouwd waren met de leeftijd van 86 jaar en twee kleindochters van 22 en 25 jaar oud. En dan een paar 50 plussers.

Wij kunnen niet anders zeggen dat we een geweldige dag hebben gehad. Iedereen was helemaal blij met wat we hebben bezichtigd en natuurlijk met onze gids!
Menno denkt mee met wat de groep wil, en zijn kennis over Israël is geweldig.
Voor iemand die een bekwaamde gids wil raden wij Menno aan!

https://www.tripadvisor.com/ShowUserReviews-g293983-d11745450-r552634193-Booqify-Jerusalem_Jerusalem_District.html#