Discover the best of Oman with a local.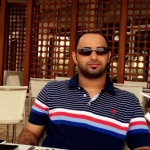 I am an enthusiastic person who is very proud of my country's amazing tourist attractions. I enjoy travelling with tourists while explaining to them about the wonders of each tourist attraction. I enjoy travelling on road trips around Oman with friends while doing different activates such as camping, swimming, trekking, animals watching and a lot more! Travelling is my biggest hobbies and I have been to so many countries around the world. I love meeting new people from around the globe and learning new cultures.

I have a very good communication skills and amazing knowledge about my country's history, geography, traditions, social life, different tourist attractions…etc. In fact, I studied tourism and hospitality management at one of the top universities in Oman.
Tours of Yaqoob

Wadi Shab
$ 100 per tour
An amazing road trip to the wonderful Wadi Shab where on the way we will pass by a lot of amazing places like Wadi Dhaiqa Dam, Bimmah Sinkhole, Fins Beach and a lot more. The journey ends in Wadi Shab where you can experience trekking and swimming.....

Nizwa City Tour
$ 120 per tour
One day trip to the old town of Nizwa; the ancient capital city of Oman. You will have the chance to see the famous Nizwa's traditional market and magnificent Nizwa Fort and a lot more that Nizwa has to offer.....