Hello! Xin Chao! My name is Quan, you can call me Q or Kiwi as my nickname. I am currently living in Da Nang, Viet Nam. Welcome to my gorgeous city
I graduated from Da Nang University of Foreign Language with a "Proficient degree" in Business English. It has always been my intention to work in hospitality, telling every one in the world about my beautiful country Viet Nam in general and Da Nang in particular and this is the main reason why I'm doing this.

Besides, for the last year and a half, I've been working in a luxurious restaurant, where I have had the chance to meet a great deal of visitors and explain a number of things to them about the local area.

Furthermore, I have a good working knowledge of English which allows me to converse with people in any kind of subjects and matters without any difficulties or problems and I can also speak a little bit Korean.

In addition, I love travelling and I have a great passion for showing the pristine beauty of my beloved city Da Nang to tourists worldwide. I know how to communicate well with everyone and understand the importance of listening and respecting others. I have been doing the guiding long enough in which I can offer you the best out of it.

I mainly do the tours around Da Nang and also some nearby areas including tours to the Ancient Town of Hoi An, My Son Sanctuary - the sacred site in Quang Nam province, or Hue - the old capital of Viet Nam under feudalism as well.

As I have been trained and gained a lot while I give the tours, I have developed a great deal of experiences in all walk of tours. Plus, regarding the fact that I'm a foodie and I'm very passionate about our cuisine, so if you really want to eat like a local, you already know who to consult.

Therefore, if you would like to be a part of our interesting journey, please do not hesitate to leave me any questions or messages here. I'm very pleased to meet your needs.
Testimonials about Quan Pham
"johncyenh from Denver, Colorado"

Great tour of Da Nang with Quan despite the rainy day. Quan was very very friendly, helpful and knowledgeable. Our group included two twin 4 year olds on challenging day due to weather and Quan was great being flexible and helpful with our group. Our tour will be a memorable one with Quan having a major impact. Highly recommend.
" David from United States"

We departed the "Voyager of the Seas" at Da Nang to be met by Quan ("just call me Q") on the dockside. The booking process to this point had been easy and trouble-free and all enquiries were answered quickly and well.
We piled into the car and were presented with cool wipes and water upon departure. Quan's English was impeccable and he showed lots of interest in us, our country (Scotland) and our travels. We told him that we wanted to go and visit a few areas that interested us (China Beach and a local market) and he took us there with no problem, even though it probably didn't suit his schedule for the tour - sorry Quan!!
We enjoyed a great meal in a local restaurant that he recommended then went on to see the sites of Hoi An, the Marble Mountains and the big Buddha in the afternoon - fantastic!
" Shakira from Adelaide, Australia"

Our tour guide was Quan, and he was very nice and knowledgeable. We have previously had tour guides who were like salesmen trying to sell us other tour packages as well, but Quan was not at all like that. He was very accommodating of what we wanted to do, and when we asked if we could try a certain local dish, he went out of his way to find a good local place for us to try this dish. He said he was learning Korean and could speak Korean quite well, which helped as my dad doesn't speak English very well.
Tours of Quan Pham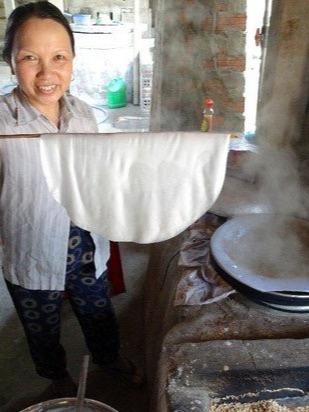 Countryside and Hoi An private day tour
Hoi An, carpentry village, rice noodle making village
$ 30 Per person
- The tour will start from hotel
- Next stop is Tra Que village, which is one of the major highlights of Hoi An tourism. Farmers here produce the freshest herbs without chemicals in Hoi An.
- Take a boat to Cam Kim island.
- There are several....
Ba Na Hills private tour
Golden bridge, flower gardens, Linh Ung pagoda, french village,...
$ 45 Per person
- Picking up at your hotel and transfer to Ba Na Hills - King Mountain, also known as the second DaLat/ Sapa in Central of Viet Nam. The beautiful weather here is always cooling, you can be sunk in to 4 seasons in just a single day including spring, fall, summer and....