Israel became my new home 40 years ago. It would be my greatest pleasure to show you this ancient yet modern country on a private tailor-made tour.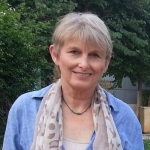 I was born in Northern Germany and have been living in Israel since 1978. It was the love for my husband that brought me to here and it is my love for this country that has kept me here since.
Israelis are open, tolerant and friendly people and always ready to help. It is easy, therefore, to feel at home here quickly. Of course, Israel's varied landscapes and its amazing history are just as fascinating as its people.

Israel is a multi-faceted country and has something to offer for everyone: some of the most important religious sites in the world, historical locations, modern cities, nature and beaches. I would love to hear what interests you and will be glad to offer you the tour that will suit you and your companions best.

About my personal history:
My husband is an Israeli, whom I met during my five-year sojourn in London, UK. After we good married we moved to Israel and started a family.
Here in Israel I also completed my education, including high-school diploma and a BA in Economics and Business Studies at the Bar-Ilan University. For more than two decades I was employed in two of Israel's leading export branches: the citrus industry and the hi-tech industry. In addition I also keep myself busy as a state-certified translator for German, English and Hebrew.
I have always had a passion for touring and hiking throughout the country, and have now turned this passion into a profession. After completing a two-year guiding course I passed the official exam held by the Ministry of Tourism and I am since then a certified tourist guide for the languages German, English and Hebrew.
Also, in 2016 I completed my MA studies at my Alma mater in the subject of Land of Israel Studies and Archaeology. In addition I am a certified guide for the Yad Vashem Holocaust Museum in Jerusalem after completing a five-month preparatory course at Yad Vashem and passing an exam.
Testimonials about Ebba Tate
Zvi Zemel

Ebba Tate was our guide on an organized minibus excursion to the Dead Sea,
including Qumran and Masada. All of the participants thoroughly enjoyed the
experience, and specifically her rich knolwdge of the area .
My wife and I are living here many years; still we learned more about the area from
Ebba, and in addition, all 8 additonal passengers from Europe wrote us,
thanking us for the experience and our guide Ebba
Tours of Ebba Tate

Walking Tour of Jerusalem's Old City
Mount Olives, Lion Gate, Via Dolorosa, Church of Holy Sepulcher, Roman Cardo,
€ 180 per tour
Meeting point is the Ghandi Overlook observation point near the Seven-Arches-Hotel on the Mount of Olives. From there we will walk down towards the Old City, passing the  Jewish Cemetry and the Dominus Flevit Church. We shall enter the Old City through the Lion....

Walking Tour of Old City of Jaffa
Clock Tower, Old Turkish Saraya, House of Simon the Tanner, Jaffa Port,
€ 130 per tour
....