Private Tagestouren in Tel Aviv, Jerusalem, Totes Meer und ganz Israel Private day tours in Tel Aviv, Jerusalem, Dead Sea and elsewhere in Israel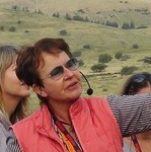 Schalom und herzlich Willkommen in meiner Heimat Israel.

Bin in Hamburg geboren und aufgewachsen, und lebe seit 40 Jahren im Heiligen Land der Christen und dem Versprochenem Land der Juden.

Es war eine Rückkehr in eine alte und neue Heimat für mich, ein faszinierendes und facettenreiches Land und Leben erwarteten mich hier. Nach Jahren im Kibbutz Snir im Finger von Galiläa und am Fuß der Golan Höhen, zog es mich in die quirlige Metropole Tel Aviv.

Seit 1998 bin ich staatlich geprüfte Reiseleiterin, mit zusätzlicher Ausbildung für Christentum und Islam. Dies ist Beruf und Berufung für mich, meine Liebe für das Reisen und das Zusammentreffen mit Menschen vereinen sich hier für mich.

Mein Land möchte ich auch Ihnen gerne näher bringen und lade Sie ein Israel mit mir im Rahmen einer Reisegruppe oder bei privaten Stadtführungen und Tages-Touren zu besuchen und zu erleben.

Neben biblischen Studienreisen, sind politische und kulturelle Gruppen und Einzelreisende mit mir unterwegs. Wichtig ist es mir Ihnen auch einmal einen Blick hinter die religiösen, sozialen und politischen Fassaden zu gewähren, und die Möglichkeit zu geben zwischen den (Schlag) Zeilen zu lesen. Selbstverständlich gehört auch die Flora und Fauna des Landes dazu. Darüber hinaus sind Begegnungen mit Menschen jeglicher ethnischer und religiöser Zugehörigkeit möglich. Ich kenne die deutsche und israelische Kultur, und dies erlaubt es mir Ihnen tiefere Einblicke zu erschließen und Zusammenhänge leicht verständlich darzustellen.

Israel Reisen "von der Stange" werden überall im Internet angeboten, aber dies ist nicht immer was man sich wirklich wünscht und vorstellt. Bei mir können Sie Ihre Interessen und Vorstellungen in das Programm einfließen lassen. Meine Touren sind garantiert ohne "Shopping"!

Würde mich freuen von Ihnen zu hören, und stehe gerne mit Tipps und Ideen für Ihre Israel Reise zur Verfügung.
Testimonials about Ushi Engel
Facebook

https://www.facebook.com/pg/IsraelReiseleiter/reviews/
google

https://www.google.co.il/search?q=israel+reiseleiter&oq=israel+reiseleiter&aqs=chrome..69i57j69i60j69i61l2j0l2.4978j0j8&sourceid=chrome&ie=UTF-8#lrd=0x151d4b7fced6d5f1:0x506a852dd5c90085,1,
Tripadvisor
https://www.tripadvisor.de/Attraction_Review-g293984-d4954949-Reviews-Israel_Reiseleiter_Ushi_Engel_Day_Tours-Tel_Aviv_Tel_Aviv_District.html
Tours of Ushi Engel

Auszug aus den Mauern
Miskenot Shaanim, Mamilla, Rathaus, Russisches Viertel, Mea Shearim, Mahane
€ 270 per tour
Wir schlendern durch das erste Wohnviertel außerhalb der Mauern: Mischkenot Shaanim, mit seiner Windmühle, erbaut 1860. Unterhalb des geschichtsträchtigen King David Hotel gelangen wir nach Mamilla - vom Slum zur Chic-Einkaufsmeile.

Von König David bis heute
Tempel-Berg, Jüdisches Viertel, Davidson Cener, David Stadt
€ 270 per tour
Der Tag beginnt mit dem Tempelberg, dem biblischen Berg Moriah wo Abraham bereit war Isaak zu opfern. Am Ort wo Salomons Tempel mit der Bundeslade stand, und auch der Zweite Tempel des Herodes bewundert wurde, steht heute der Felsendom mit....