Dear Friends, I have been more than 25 countries as a tourist , so I think may give you better understanding about travel.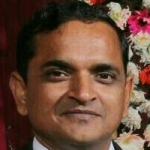 World famous writer Mark Twain said " So far I am able to judge, nothing has been left undone , either by man or nature , to make India the most extraordinary country that the sun visits on his rounds. Nothing seems to have been forgotten, nothing overlooked."

For the tourists, coming to India the very first time, I have made some tour packages so that you do not miss anything. My tour packages include destinations for all kind of tourists. As a tourist your passion might be history or wild life, nature or spirituality, temples or monuments, you won't be disappointed if you travel India with me.
Apart from packages also offer customized tour program as per your need and interest. I understand that every individual is different from others and so is his/her interest.
Testimonials about AJAI
Anna Sergia , Saint Petersburg

A huge thanks to Ajai. A great guide who knows India very well. Very intelligent and pleasant in communication. Especially it would be desirable to note that Ajai perfectly speaks Russian. It's such a pleasure to hear competent Russian speech.
I traveled with a friend on the Golden Triangle and we had very pleasant experiences. I am immensely grateful to the fate that at our very first time in India, we were on an excursion to Ajai.
My friend and I are very fond of Indian culture, philosophy and Indian dances. I am a teacher of philosophy, and my friend is a choreographer and founder of a school of Indian dances in the style of Bollywood in St. Petersburg. In India, we were already absolutely in love with this country and information-prepared: in the head kept pictures of all the major attractions that instantly recognized. Ajai supplemented our knowledge, revealed such nuances that no guide will tell.
Particularly great was the fact that he conducted tours not only on the territory of the main attractions, but also he had very qualitatively prepared route excursions. We did not miss the road between the moving from one city to another. Ajai touched upon the topics of economics, politics, the education system, the cinema, the traditions of the past and the present, and much more.

He paid attention to a lot of things, seemingly small, but so significant for making a general favorable impression. For example, to try the naiveest pani puri in Akshardham in Delhi, laddu in Agra (such a fragrant and tasty ladda was nowhere else), recommended jewelry stores that fit our "Bollywood" interests .... All the incredibly beautiful, bright and necessary for dancing we bought exactly at that time in India.

Anastasia Lyapicheva

Ajai is my very first and most favorite guide in India (and since I already have 7 tours in India, I suspect that I can judge about professionalism).
So, if you do not want to think and understand the intricacies of Delhi (and not only the capital) streets, if you do not have time to read reviews for all the hotels, checking their location, the opportunity to accept a foreigner, the existence of hidden taxes, etc .; and if you do not want to break your head trying to book tickets for crowded Indian trains, broken down into 5 classes and a bunch of quotas - just assign it to Ajai. He will find the most optimal options, where it will be quiet, calm, tasty and, importantly, safe and on time. Your business is to correctly formulate the task, budget and your interests (culture, architecture, cooking, archeology, shopping or treatment).
I love history and a traveler with experience, so even the first time I arrived, having a good historical and cultural background. But Ajai opened a lot of interesting things and secrets, about which in books and textbooks do not write. If you have questions about history, philosophy, literature, geography, but even on the history of science and physics - ask, and get a meaningful answer. Ajai lived for many years in Russia and can draw historical parallels, give analogies and decompose incomprehensible moments on the shelves. And all this in a competent Russian language, so that you do not have to break your brain trying to understand Hinglish (a local version of English).
All interesting and amazing trips!

Aleksandra, Cheboksary

Hello everyone. They call me Alexandra, I'm from Russia, Cheboksary. I'm very happy. I was in the hands of such a Guide and even a tour operator, like Ajai Singh. She said that I want the Indian Ocean, I got one of the best Ayurvedic resorts in addition. A professional who loves people, his country, work. Removes all obstacles on the way, feels the client, creates a holiday and constantly arranges pleasant surprises. Where, what, it is profitable to buy and that the best and without over payments is to Ajai. A person who does more than ask. Ajai, thank you so much. Thanks to you I fell in love with India and is ready to come back again and again. I found my guide and recommend to you.
---
---