Experience the history, culture, and tradition of North India with me.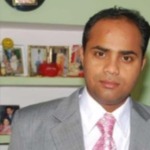 Namaste!

I am Vivek Handa, born and brought up in a traditional family in Punjab. I am a resident in New Delhi for the past 18 years.

With a great interest in the history, culture, and tradition of India, I have traveled a lot in Northern India. I have a Bachelor's Degree in Tourism Management, as well as a degree in Tourism and History from MKITM, Lucknow, Uttar Pradesh.

I am trained as a Licensed Tour Guide from "Indian Institute of Tourism and Management (IITTM, Noida) in Northern India Region. I am a "Travel Expert" in Northern India. My area of expertise are New Delhi, Agra & Jaipur, and Rajasthan.

With an experience of more than 15 years into Guiding, I have welcomed "Thousands" of International Tourists as the Valued Guests to my Incredible Country. Having spent a great amount of time in the traditional culture of my country, and the way my guests have enjoyed the Facts of India rooted in her history, I am always mesmerized to recall that I am a part of connecting people across countries to "My India".

I am very proud that I have been a source of sharing the history, and rich cultural diversity of my Incredible India to all the Visitors dropping in here. It would be a great pleasure of mine to be a Private Tour Guide in my beautiful country.



Besides these programs, I would be very happy to customize Tours according to one's interests. Being a cultural ambassador of my country, I have a very good knowledge of India and it's Lifestyle & Nightlife, Culture & Traditions, History & Mistry, Local food & Drinks, Do & Don't, Rules & Regulations, Monuments & Their history, Hotels & Restaurants, Local Market & Bazaars, Politics & Economy, Dance & Drama, Fairs & Festivals, Museums & Public Gardens, Places for Lunch & Dinner, Places of Photography, Religions & spirituality, Archeology & Architecture, Past & Present, Dress code & turbans, Opening & closing time of touristic sites, etc.

I've been living in New Delhi for 18 years, and have worked passionately with all sorts of Organisations which are connected with Tourism itself. More than 10 years in the Tourism industry makes me confident that I am the memory maker professional Tour Guide. Although my primary expertise areas are New Delhi (The City of Cities), Agra (The City of Love), Jaipur (The Pink City), I also cater to many Northern parts of India.

As a hobby, I go to explore new places in my free time, and those places I show as a surprise to my valued guests, which are not part of the sample itineraries, and they are a gem in the cities.

I am confident that you will find the cost of my professional services & knowledge to be well deserved, as I share with you the incredible complexities of Indian society and history. My dedication to providing hassle-free & highly-secure, yet amazing tours, means that my clients often wish to return to India again and again.

I am able to fully cater all of my tours to suit solo travelers (both male & female), couples, families, or special interest groups (such as those in India for missionary work) & to satisfy travelers of any age or fitness level. I also provide the transfer service from Airport to Hotel & Hotel to Airport for you with no extra charges for late-night flights including public holidays.

The tours on this page are selected carefully to give you a general idea of what's possible. I am flexible on the tour & I will do my best to accommodate you.

CREDENTIALS / PROFESSIONAL EXPERIENCE

* Working as a Local Tour Guide In Northern India for more than 10 Years.

* Worked With leading Tour Age

* I'm approved by the Ministry Of Tourism to operates my services within the Northern Region.
---
---