Having been a Journalist, an Archeologist an a Chef in Israel I invite you to tour Israel with me and get a surprising view of this land and people.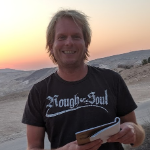 In hindsight it's quite obvious, but when working as a journalist, an archeologist and a chef in Israel I did not quite realize that these stages in life were just setting me up to become a tour guide. Now that i went back to school and finished the Israeli Tour Guide course it all makes sense though.

I was born on a small Kibbutz in the desert and as a small boy experienced first hand this unique socialized way of life. Everything was shared, even the upbringing of the children. We as kids lived together day and night,

The family then moved to the Netherlands, but Israel always kept appealing to me. As a young journalist I came to work here and witnessed first hand the tragic of the conflict here, but I also learned about the beauty of the people and the cultures behind the conflict.

Then I went on to work in Archeology, and learned about the many layers of ancient history that are being revealed in this land to this very day.

After having lived in the desert and in Jerusalem I made the ancient port town of Jaffa my home and took one final detour: I went on to be a pizza maker and I became part of the vibrant food scene in Jaffa and Tel Aviv, specializing in vegan cooking.

As a tour guide I do my best to bring all my past experiences together. I invite you tour Israel with me and get a vivid perspective of this fascinating land and its people.
Testimonials about Itai Bar
tbay41

Great tour from Tel Aviv that hit the highlights of Jerusalem, and left a real impact on me. Our guide Itai Bar did a great job shepherding us throughout; we were supposed to go to Garden of Gethsemane and Temple Mount, but being Ramadan, Passover AND Eastern Orthodox Holy Thursday, religious fervor was high and there were disturbances (and police rubber bullets) on Temple Mount. He moved things around, and we had an early lunch, Itai making changes on the fly. He's very knowledgeable about the geography and history, and very diplomatic in answering our questions about issues that drive the region mad. At the end, he took us to a local market and neighborhood since we had extra time from the morning.
I would highly recommend this tour, and Itai as a guide!

Jenny

Itai is a great tour guide. He is extremely knowledgeable and provides the most important information during the tour. Tour starts at 9am with either private pickup if you booked in advance or at a common meeting point if you book last minute. The tour covers the most important places in Jerusalem. On the bus we got water and Itai explained a lot on the way. I learned a lot of new things. There is also a stop for coffee and lunch. Thanks Itai, loved the tour and would highly recommend it.
Alice

What a great tour! Itai was fantastic: super knowledgeable and an all-around great guide. Having such a small group makes everything more accessible and flexible. I highly recommend this tour!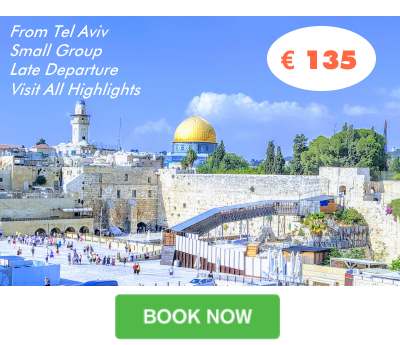 ---
Booqify Israel Manager
Menno de Vries

+972587869982
---
---