Quality family tours, custom made, historical/archaeological sites, religious pilgrimage, fun activities.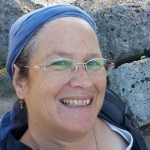 Touring with an Israeli licensed guide provides visitors with an in-depth understanding of the historical meaning of Israel. I am a guide experienced in guiding families in a luxury touring vehicle, throughout the country. I build a custom itinerary to fit your needs exactly, including sites with religious connection, archaeological sites with historical connection, geographical/nature sites to better understand the Bible and walking tours in Jerusalem's Old City as well as Tel Aviv-Yaffo.
Tours of Chana Koren

Jerusalem Above and Below
Walk on Ramparts, visit underground tunnels
$ 350 per tour
Walk on Jerusalem's Ramparts and tour the hidden areas in the Old City located on rooftops and underground.  View the Temple Mount from above and experience the ancient tunnels of the City of David.....