Shalom. I have a passion for Archaeology, History and Food and am excited to show people around the Land of Israel.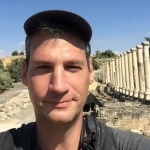 When my brother turned 13 and had his Bar Mitzvah he got a subscription to Playboy Magazine. When I turned 13 I got a subscription to Biblical Archaeology Review.

Shalom! My name is Lorne Newman and I am originally from New York City. I fulfilled a lifelong dream and moved to Israel in 2012. As an archaeology major in University I had the opportunity to excavate at a few digs in Israel in the past and continue to do so to this day. I am passionate about the history and beauty of this country.

Some guides consider themselves 'part-time stand up comedian'. For 13 years I was a full-time stand up comedian performing shows in 33 States in the US in more than 110 towns and cities in addition to events in Canada and England. I bring up my stand up career not because I want to be the funniest guide but because I know how to communicate with people and listen to what they are interested in.

My attitude towards clients is as it was in my former career. You are paying good money and deserve the best value. I am flexible with my itineraries so if say you don't want to go to a museum today then let's change the program and visit a winery instead!
Testimonials about Lorne Newman
Gary C.

Tour Guide Loren gave our tour group a fantastic day touring Masada and the Dead Sea. His nearly non-stop commentary was terrific and brought the old to the modern day and back again for a truly unique historical perspective of both destinations. He also added great local color to the places we passed on the way out, around and back again. What we enjoyed the most was his willingness to address our personal questions each tour guest received his undivided personal attention. You just cannot ask for more than that.
Highly recommended.
Susan

Great Tour Guide to Masada and the Dead Sea

Lorne was the best. He is extremely knowledgeable and has an answer to everything. His special sense of humor and very accurate sarcasm made our day. We can't recommend him enough.


https://www.tripadvisor.com/ShowUserReviews-g293984-d1933747-r573016552-Bein_Harim_Tourism_Services_Day_Tours-Tel_Aviv_Tel_Aviv_District.html#
JB

Northern Coast with Lorne

Review of: Caeserea and Rosh Hanikra Day Trip from Jerusalem

My father, husband and I were in Israel for 6 days and this was BY FAR the best tour. I give the credit to our wonderful tour guide, Lorne. He was incredibly knowledgeable and spoke clearly. He gave us details about Israel all the way from Jerusalem to Caesarea to Haifa to Akko to Rosh Hanikra. Some tour guides stay silent and do not say very much... He picked out the perfect place to eat at a very reasonable cost. He didn't waste a lot of time having us stop at gas stations and gift shops. The amount of time spent at each site was very appropriate. On the way back, he gave a great summary of the day trip. I wish we could have had Lorne for the other tour days. I would recommend him 1000%. Thank you for making our last day in Israel the best day!


https://www.tripadvisor.com/ShowUserReviews-g293984-d1933747-r571658182-Bein_Harim_Tourism_Services_Day_Tours-Tel_Aviv_Tel_Aviv_District.html#
Tours of Lorne Newman

Jewish Jerusalem
City of David, 4 Sephardi Synagogues
$ 400 per tour
This tour is designed to offer sites in Jerusalem from a Jewish context. Historic and Religious sites will be toured and described in detail. It is of course open to non Jews who may be interested in learning about the culture.

We begin at the Israel....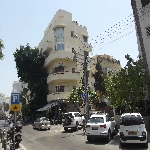 Tel Aviv Walking Tour
Jaffa, Bauhaus Tour
$ 300 per tour
As a Local Guide in Tel Aviv I love showing off my home city to guests. I can meet you in the lobby of your hotel and escort you back at the end of the day. The tour lasts between 5-6 hours so put on some comfortable walking shoes and let's begin!

We....