Shalom. I have a passion for Archaeology, History and Food and am excited to show people around the Land of Israel.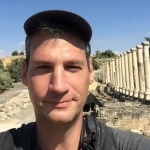 When my brother turned 13 and had his Bar Mitzvah he got a subscription to Playboy Magazine. When I turned 13 I got a subscription to Biblical Archaeology Review.

Shalom! My name is Lorne Newman and I am originally from New York City. I fulfilled a lifelong dream and moved to Israel in 2012. As an archaeology major in University I had the opportunity to excavate at a few digs in Israel in the past and continue to do so to this day. I am passionate about the history and beauty of this country.

Some guides consider themselves 'part-time stand up comedian'. For 13 years I was a full-time stand up comedian performing shows in 33 States in the US in more than 110 towns and cities in addition to events in Canada and England. I bring up my stand up career not because I want to be the funniest guide but because I know how to communicate with people and listen to what they are interested in.

My attitude towards clients is as it was in my former career. You are paying good money and deserve the best value. I am flexible with my itineraries so if say you don't want to go to a museum today then let's change the program and visit a winery instead!
Testimonials about Lorne Newman
Vincens

Great experience!
Review of: Nazareth, Tiberias, and the Sea of Galilee Day Trip from Tel Aviv
We have been almost two weeks in Israel traveling around and today´s trip has been the best. Lorne, our guide, has been amazing: with a great intelligent sense of humor, accurate archeologic information and always ready to answer any kind of question. Without doubt, the best guide we´ve had. Highly recommend it, the day tour and Lorne the guide. V&D


https://www.tripadvisor.com/ShowUserReviews-g293984-d1933747-r597719841-Bein_Harim_Tourism_Services_Day_Tours-Tel_Aviv_Tel_Aviv_District.html#
Miguel M.

a fantastic day in jerusalem and the dead sea
thank you for this trip. ahmeds driving was perfect and lorne was a fantastic guide. his way of speaking. his jokes and quotes have been funny and entertaining. he has been the perfect guide through jerusalem and part of israel with interesting facts and anecdotes. he has been hard and strict on the timings and it worked since we did not lose any time. his archeologic view and commentaries gave us a very good overview of what is all going on in this crazy city! we can't imagine a better way to discover this city and would rebook lorne for our next trip.
Dina

Interesting and well-organised tour
Review of: Caeserea, Rosh Hanikra and Acre Day Trip from Tel Aviv
Thanks to Lorne and the driver we had a really good and interesting tour where Lorne shared a lot of his knowledge during the day.
There were a very good structured program with good timing of when to make a break. The driver brought us home safely.
We would rate this tour "Excellent" if there were a little more space in the bus for long legs
Tours of Lorne Newman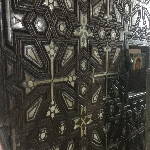 Jerusalem 4 Quarters Tour
Extensive tour of the Church of the Holy Sepulchre
$ 300 per tour
The 4 Quarters Tour offers the chance to visit places within the Walls of the Old City of Jerusalem (and a couple of sites just outside). Although we will be visiting Christian places, this is not guided as a religious tour but one for those with a flavor for History,....
---
---
---