I organize adventure tours like sightseeing, trekking and mountaineering..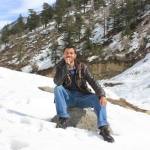 TRAVELER , TREKKER , MOUNTAINEER , SPONTANEOUS SNOWMAN, TREE HUGGER
NOT A SMOKER OR DRINKER, PROUD PAKISTANI

The most amazing thing I have done is that I trekked for 12 days, more than 200 km, from Askoli to K2 Base camp in June 2014.. I have also climbed snowy mountains around 5500m..
I am young outdoor lover, but in free time motivates others to go into the wild through organizing trips, hikes and other fun things, I provide honeymoon packages and family tours all across the Pakistan. Pakistan is one of those blessed countries which enjoy all the four seasons and have rich cultural diversity and history. It has four provinces, beautiful northern areas and an unofficial province i.e. Gilgit Baltistan.