Private, tailor made tours in Jerusalem, Tel Aviv and Beyond, visit Israel with Leontine, an enthusiastic, experienced guide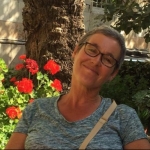 I was born and raised in Holland. After high school, I studied to become a social worker and worked one year for the social services of the city of Amsterdam.

But after having visited Paris, I fell in love with the city and eventually moved there.

I enrolled in the Tour Guide school of Paris and started working in the best profession one can imagine: I became a licensed tour guide.

I have worked with great pleasure as a guide in France and have met so many people, developed so many new tours... it was an amazing period in my life.

But my Jewish roots pulled me to Israel and after having lived for nearly thirty years in France, I moved to the Holy Land.

The only job I could imagine doing in Israel was of course being a Tour Guide, so I enrolled in the Tour Guide school in Jerusalem, and…..here I am, ready to guide you with love and enthusiasm in this amazing country.

Like in France, I want to show you the beauty of this country, tell you the long history, share my passion with you.
Testimonials about Leontine Cohen Pauka
Liesbeth uit Nederland/Tripadvisor

Fantastische tour door Jeruzalem

Wij hebben bij Booqify een prive tour door Jeruzalem geboekt. Het was een prachtige tour, Leontine was een hele goede gids. De tour was vooraf goed afgestemd en er was veel rekening gehouden met het feit dat wij een dochter van bijna 2 hebben. Menno heeft zelfs het autostoeltje van zijn eigen dochter aan ons uitgeleend zodat onze dochter veilig in de taxi van Tel Aviv naar Jeruzalem en visa versa kon reizen.
Leontine gaf veel uitleg, nam ons mee naar de belangrijkste plaatsen in de oude stad.
Fam Korthals Altes uit Nederland

Een indrukwekkende citytrip die mede dankzij Leontine onvergetelijk is geworden

Met een klein gezelschap (4 personen) zijn wij 2 dagen met Leontine Cohen op stap geweest: 1 dag door de oude stad van Jeruzalem, en 1 dag naar het indrukwekkende Yad Vashem, het Holocaust monument. Mede dankzij haar is onze citytrip onvergetelijk geworden. Haar bevlogenheid, brede kennis en persoonlijke benadering maakten onze bijzondere reis nog meer bijzonder. In de oude stad kent ze een aantal locals, en weet ze precies waar je moet zijn voor een meer 'local experience', alles met veel ruimte en respect voor de verschillende religies, overtuigingen en culturen. In Yad Vashem kregen veel oorlogsslachtoffers 'een gezicht' door de persoonlijke verhalen die Leontine van zovelen wist te vertellen, waardoor ook het bezoek aan dit monument onvergetelijk werd. Kortom, een echte aanrader om met Leontine de Israel-ervaring tot iets heel bijzonders te maken!
Nelli from Toronto, Canada


N L Toronto, Canada
Reviewed 2 days ago
A Lovely day in the Old City Leontine
Review of: Private Jerusalem City Walking Tour
We feel privileged that we had the chance to be shown around by Leontine.

She came to meet us at our place in the morning and we walked slowly to the Old City. We started with a coffee and croissant as we had not eaten breakfast and Leontine was very easy to chat with and immediately helped us to understand our neighbourhood better.

Her knowledge is vast and it was rare that she didn't have an answer to any of our ongoing questions. She knows her stuff and will actually provide you a great history lesson. We felt like we experienced more than just seeing the sights, we feel we received an education!

She also had a printed out booklet showing the different maps with their respective time periods labelled so we could understand the different stages the Old City had gone through. As a visual learner/tourist, it really helped to understand the historical and social significance. It shows she takes a lot of pride and joy in what she does.

She knows the best shops and restaurants to go to and it's clear she is well known and well liked in the area. We had the opportunity to meet other tour guides along the way who were also very friendly and it felt like a very warm and welcoming community.

Leontine is smart and very fun to spend the day with. This experience is so worth it and very highly recommended. We would give more stars if we could!
Show less

Tours of Leontine Cohen Pauka

Demie journée dans la Vieille Ville
Saint Sépulcre, du Mur des Lamentations, le Via Dolorosa, le Cardo, le Shuk
€ 180 per tour
8.30 heures: Je viens vous chercher a votre hotel.
On commence notre visite avec un point d'observation pour saisir la
Vieille Ville.
Visite de la Vieille Ville, découverte du Quartier juif, Musulman ,
Chrétien et Armenien.
Visite....

Fashion in Israel. 6 hours appr.
₪ 1000 per tour
We will visit small boutiques and workshops where jewelry, fashion and decoration designers will receive you.

They will tell you about their work, explain their inspiration and you will see them at work.

You will be able to shop or just....