I have traveled with my guests to all parts of India and declared 'Best Escort of the Year' on a number of occasions by different companies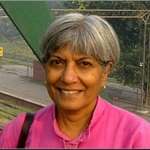 Let me welcome you to Incredible India. India has transformed in the last few decades from a struggling young country to a vibrant democracy. Modernity and tradition thrives side by side in a stunning array of diversity. Bounded by the majestic Himalayan ranges in the north and a 6000 kilometre long coastline in the south with many stretches of golden beaches, India is a vivid kaleidoscope of landscapes, magnificent historical sites and royal citadels, misty mountain retreats, verdant forests, indegenous wildlife, colourful ever smiling people, myriad cultures and festivities.

I started my career in travel trade as far back as 1971. Since then I have extensively traveled both within Indian Subcontinent and abroad and have over 30 years of experience in Tour Guiding,
and Tour Manager/Escort for Indian Subcontinent.

During the course of my long and illustrious career, I have managed and looked after tours of SITA WORLD TRAVEL (U.S.A), AMTOUR VACATIONS-BIG FIVE (USA), TOURCAN VACATIONS (CANADA), UNIWORLD (USA), LOGANS (SOUTH AFRICA), MARANATHA (AUSTRALIA) and large number of guests of other smaller companies and Free Individual Travelers.

Declared 'Best Escort of the Year' on a number of occasions by one company or the other, I also acquired a sort of expertise in managing such Special Interest Tours as TV Shoots, Broadcasting Groups, etc. Besides guiding/managing tours, I have extensively traveled around the world – attending Travel Fairs and Exhibitions and conducting workshops.

Over the years I have traveled with my guests to all parts of India and abroad, though destinations have varied what has remained unchanged the unconditional appreciation she received without fail from all my clients.
Testimonials about Parveen Paul
Jerseygeorge (Tripadvisor)

Taj Mahal with Parveen Paul

Our visit to Agra and beyond was excellent and made more so by the enthusiasm and knowledge of our marvellous tour director Parveen Paul. She was so full of information and she shared her love of her country with us.


https://www.tripadvisor.in/ShowUserReviews-g297683-d317329-r471386860-Taj_Mahal-Agra_Agra_District_Uttar_Pradesh.html#
Tim_H_from_Lincs_UK (Tripadvisor)

I can thoroughly recommend Parveen Paul. She won't be the cheapest, but her knowledge is outstanding and her English impecable. We have used about 12 guides in the last 2 years in various parts of India and Parveen is head and shoulders above any of the others, some of whom themselves were good.
Janty

I got quick responses to my e-mails and booked a 2 night houseboat journey from Alleppey to Kollam. They picked me up at the train station as we arranged and brought me direct to the houseboat, before long we were cruising through the maze of waterways that traverse inland Kerala. Seeing the villages that rely on the Keralan rivers, canals and lakes was the highlight of the trip. There was an abundance of animal life throught the journey including birds, repiles and fish. Upon finishing the cruise I was taken to the trainstation. The whole trip from booking to finishing was easy and worth every rupee.
---
---