The Borobudur Temple Compounds is one of the greatest Buddhist monuments in the world, and was built in the 8th and 9th centuries AD during the reign of the Syailendra Dynasty. The monument is located in the Kedu Valley, in the southern part of Central Java, at the centre of the island of Java, Indonesia. The main temple is a stupa ( bell-shape ) built in three tiers around a hill which was a natural centre: a pyramidal base with five concentric square terraces, the trunk of a cone with three circular platforms and, at the top, a monumental stupa. The walls and balustrades are decorated with fine low reliefs, covering a total surface area of 2,520 m2. Around the circular platforms are 72 openwork stupas, each containing a statue of the Buddha.

---
About Yanti, professional tour guide in Indonesia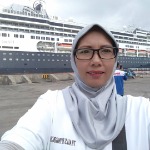 You may call me Yanti. A simple, easy going, flexible, open minded and funny person. Working in tourism industry since 1994 as a hotelier and become a tour guide since 2009. Travelling is one of my hobbies and meeting up with new friends from around the world is the great benefit. Always try my best to give you the great memories about Indonesia, especially Yogyakarta. If you only need  transport and  driver, am ready too. Your satisfaction guaranteed.
Continue reading
Contact
Yanti