Jomblang cave is a vertical cave with dense primeval forests at the base. The 300m long corridor decorated with ornaments beautiful caves will take you to the Cave Grubug , where can see the light of heaven . Manually ropping down 60m with safety belt and helmet. Will take 3hours inside the cave. Jomblang cave once used as a shooting Amazing Race America in 2011. The vertical -type cave collapse doline was formed by geological sinkhole processes and vegetation on it into the earth that happened thousands of years ago. This debris formed a sinkhole or pitting at the mouth of the cave area of about 50 square meters . Sinks in the Java language is also known as luweng , until the cave is also often called Luweng Jomblang .
---
About Yanti, professional tour guide in Indonesia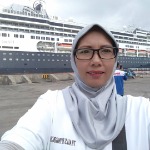 You may call me Yanti. A simple, easy going, flexible, open minded and funny person. Working in tourism industry since 1994 as a hotelier and become a tour guide since 2009. Travelling is one of my hobbies and meeting up with new friends from around the world is the great benefit. Always try my best to give you the great memories about Indonesia, especially Yogyakarta. If you only need  transport and  driver, am ready too. Your satisfaction guaranteed.
Continue reading
Contact
Yanti