Mount Merapi, ( literally Fire Mountain in Indonesian/Javanese ), is an active stratovolcano located on the border between Central Java and Yogyakarta, Indonesia. It is one of the most active volcano in world and has erupted regularly since 1548. It is located approximately 28 kilometres (17 mi) north of the large Yogyakarta city, and thousands of people live on the flanks of the volcano, with villages as high as 1,700 metres (5,600 ft) above sea level.

---
About Yanti, professional tour guide in Indonesia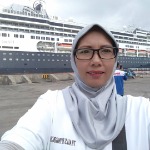 You may call me Yanti. A simple, easy going, flexible, open minded and funny person. Working in tourism industry since 1994 as a hotelier and become a tour guide since 2009. Travelling is one of my hobbies and meeting up with new friends from around the world is the great benefit. Always try my best to give you the great memories about Indonesia, especially Yogyakarta. If you only need  transport and  driver, am ready too. Your satisfaction guaranteed.
Continue reading
Contact
Yanti