Millions of tourists seem to visit Jerusalem every year.
Most tourists spend one or two days in Jerusalem, following their 6 or 7 days itinerary to Israel.
Vast majority of the tourist population does not even consider the possibility of taking some time out for hiking through the Jerusalem mountain national parks and forests.
So, my recommendation to you, nature lovers, is to make some time and get it done, easily.
Let's assume you're In Jerusalem hotel and got half a day off.
The only gear I would recommend is hiking or sports shoes, heat and at least 3 liters of water during summertime.
I would also get hiking trail map of the desired part.
In order to get there, I would take either taxi or bus to one of the hiking hubs within the mountains at western area and go for a relaxing walk.
You will find large number of well-marked hiking trails, including part of the famous Israel National Trail (INT).
In the following short video, you can review the landscape and get an idea about this kind of activity.
Hope you'll enjoy it!
---
About Noam Ziv, professional tour guide in Israel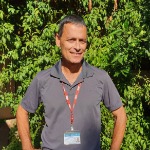 Hi There, My name is Noam Ziv and I'm a certified Tour Guide by the Ministry of Tourism. My mission is making  you feel Israel became your second home and make you come back here again. I invite you for an unforgettable experience in my beloved land, the Holy Land. I offer private tours of Israel in both English or Hebrew, either fully planned or tailor-made. I love showing people fascinating Israel, helping them discover why this place has so reach history. Israel is a mult
Continue reading
Contact
Noam Ziv