Candi Prambanan or Prambanan Temple is the grandest temple in Java apart from Borobudur. Located on the Prambanan plain, this sprawling temple complex sits majestically in an open area about twenty kilometers south of Mount Merapi, which dominates the horizon. The temple was constructed in the early ninth century by the Sanjaya dynasty, a flourishing Hindu kingdom that shared the island with the Buddhist Saliendra dynasty that built Borobudur. The relationship between the two dynasties is not clear, but one theory maintains that the Sanjayas constructed Candi Prambanan as a symbol of dynastic power in response to the construction of Borobudur.
---
About Yanti, professional tour guide in Indonesia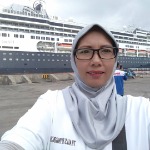 You may call me Yanti. A simple, easy going, flexible, open minded and funny person. Working in tourism industry since 1994 as a hotelier and become a tour guide since 2009. Travelling is one of my hobbies and meeting up with new friends from around the world is the great benefit. Always try my best to give you the great memories about Indonesia, especially Yogyakarta. If you only need  transport and  driver, am ready too. Your satisfaction guaranteed.
Continue reading
Contact
Yanti