The Ramayana ballet tells the story of a legendary epic, presented in a series of graceful dance movements accompanied by gamelan music – an orchestra of traditional Javanese instruments. For those who enjoy cultural displays, this is a splendid performance that is not to be missed. The ballet brings together different aspects of traditional Javanese culture with dance, drama, music and costume all on display. Performers do not speak during the dance. The only storyteller comes from the sinden, a female singer who describes the story through Javanese song.
---
About Yanti, professional tour guide in Indonesia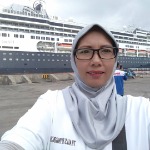 You may call me Yanti. A simple, easy going, flexible, open minded and funny person. Working in tourism industry since 1994 as a hotelier and become a tour guide since 2009. Travelling is one of my hobbies and meeting up with new friends from around the world is the great benefit. Always try my best to give you the great memories about Indonesia, especially Yogyakarta. If you only need  transport and  driver, am ready too. Your satisfaction guaranteed.
Continue reading
Contact
Yanti