Keraton Kasultanan Ngayogyakarta Hadiningrat or now better known by the name of Yogyakarta Palace is the center of Javanese culture living museum that is in the Special Region Yogyakarta ( Daerah Istimewa Yogyakarta ). Not just becomes the place to live for the king and his family, the palace is also a main direction of cultural development of Java, as well as the flame guard of the culture. At this place tourists can learn and see directly on how the Javanese culture continues to live and be preserved. Yogyakarta Palace was built by Pangeran Mangkubumi ( Prince Mangkubumi ) in 1755, several months after the signing of the Perjanjian Giyanti ( the Agreement Giyanti ). Banyan forest ( Hutan Beringin ) was chosen as the place for building the palace because the land was between two rivers that were considered good and protected from possible flooding. Although already hundreds of years old and were damaged by the massive earthquake in 1867, Yogyakarta Palace buildings still stand firmly and well maintained.
---
About Yanti, professional tour guide in Indonesia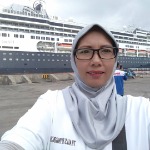 You may call me Yanti. A simple, easy going, flexible, open minded and funny person. Working in tourism industry since 1994 as a hotelier and become a tour guide since 2009. Travelling is one of my hobbies and meeting up with new friends from around the world is the great benefit. Always try my best to give you the great memories about Indonesia, especially Yogyakarta. If you only need  transport and  driver, am ready too. Your satisfaction guaranteed.
Continue reading
Contact
Yanti