The largest of all of Israel's municipal areas – southern Israel, or The Negev, is a home to some of the country's most stunning sights, nature, and tourist attractions.
Positioned in similar latitude to the Sahara Desert, the Negev is characterized by extreme weather conditions, despite its relative geographical proximity to the Mediterranean.
Be'er Sheva, the Negev's capital, and Israel's seventh largest city, is both a cultural hub and a thriving metropolis, housing one of Israel's top universities – The Ben Gurion University.
The university is named in honor of the leader who was the first to imagine the possibility of such a lively metropolis, despite the geographical and physical conditions of the dry, arid Negev.
The Negev is also a must for any jeep and four-wheel drive fan.
Its endless stretch of land, dotted by hidden waterholes and walking treks, craters and hilly areas, are a perfect location for day trips and overnight walking treks.
Covering 60% of the country's territory, the Negev is one of the most unique areas in Israel, holding within its natural treasures, off-the-beaten-track waterholes and remote treks, and plenty of holiday opportunities.
Whether you are an extreme sports person, a lover of quiet desert nights or a history and archaeology fan – Israel's south is a real haven for those who love to wake up to the stillness of the desert and enjoy magic of the Negev's vast terrains.
The Negev offers a mix of travel adventures and relaxing holiday opportunities, to suit your travel needs.
The southern part of the Israel National Trail (INT) has intentionally designed and marked to pass through some of the most incredible sites along the Negev.
 River treks and waterfalls, historical sights, parks, gardens, rural villages, museums and festivals –
the Negev has it all.
---
About Noam Ziv, professional tour guide in Israel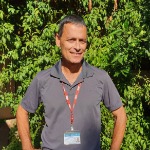 Hi There, My name is Noam Ziv and I'm a certified Tour Guide by the Ministry of Tourism. My mission is making  you feel Israel became your second home and make you come back here again. I invite you for an unforgettable experience in my beloved land, the Holy Land. I offer private tours of Israel in both English or Hebrew, either fully planned or tailor-made. I love showing people fascinating Israel, helping them discover why this place has so reach history. Israel is a mult
Continue reading
Contact
Noam Ziv