Timang Beach has a very quiet and beautiful white sand beach located in the west of Siung Beach, only 2,5 hours from Jogja, one of the most beautiful beach in Jogja. It is whiter and cleaner than other Wonosari Beaches. Rock cliffs here are beautiful as well. To reach the rock island using this "cable car", the waves here are very high up to more than 10 meters. Actually, the other purpose to make the " cable car " is for to find lobster. There are two types of lobster are caught in this island, the red lobster and green lobster. There are a lot this Kapasan fruit trees near to the beach. I had never seen this fruit before. They are red, oval shaped, and having leaves like sweet potato leaves.
---
About Yanti, professional tour guide in Indonesia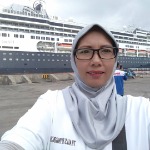 You may call me Yanti. A simple, easy going, flexible, open minded and funny person. Working in tourism industry since 1994 as a hotelier and become a tour guide since 2009. Travelling is one of my hobbies and meeting up with new friends from around the world is the great benefit. Always try my best to give you the great memories about Indonesia, especially Yogyakarta. If you only need  transport and  driver, am ready too. Your satisfaction guaranteed.
Continue reading
Contact
Yanti