Hello! I am Susanna Grigoryan, an English speaking professional tour guide in Armenia, Georgia and Nagorno Karabakh since 2003.
I organize historical sightseeing tours around Armenia, Georgia, Nagorno Karabakh. I am specialized in cultural, hiking,  historical, archeological, religious, food and wine, as well as joint tours: Armenia-Karabakh, Armenia-Georgia, Armenia-Karabakh-Georgia. During my tour guide experience I have guided tourists from different countries of the world. The visitors enjoy my tours as they are unique, interesting and well organized. Experience new feelings, new culture, new flora and fauna. Enrich your world!
---
About Susanna Grigoryan, independent tour guide in AM.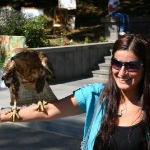 Hi. Welcome to Armenia.
I am Susanna Grigoryan from Armenia. I do private tours around Armenia. Transport, hotel bookings, individual itineraries, recommendations, restaurant bookings, guiding services are available.
Continue reading
Contact Susanna Grigoryan