The name Taman Sari comes from the Javanese words taman, meaning a "garden" or "park" and sari, which means "beautiful" or "flowers". Hence, the name Taman Sari means an area of a beautiful garden adorned with flowers. An old article described it as a "water castle" ( Dutch: waterkasteel ); as by shutting the watergates, the complex would be completely immersed in water, leaving tall structures standing out.
---
About Yanti, professional tour guide in Indonesia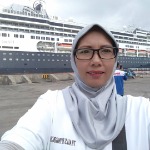 You may call me Yanti. A simple, easy going, flexible, open minded and funny person. Working in tourism industry since 1994 as a hotelier and become a tour guide since 2009. Travelling is one of my hobbies and meeting up with new friends from around the world is the great benefit. Always try my best to give you the great memories about Indonesia, especially Yogyakarta. If you only need  transport and  driver, am ready too. Your satisfaction guaranteed.
Continue reading
Contact
Yanti