Self-Drive Tuk-Tuk Hire
Arguably, the most authentic way to experience Sri Lanka is by hiring and driving your own Tuk-Tuk. Some travellers report that they have been able to strike a deal directly with local owners for the use of their vehicle. This is not recommended, however, due to licensing and insurance concerns. Since December 2016, Tuk Tuk Rental Sri Lanka has been providing socially responsible, self drive Tuk Tuk hire for tourists and travellers visiting Sri Lanka. Tuk Tuks can be collected from Mount Lavinia, Colombo, or delivered nationwide. As Tuk Tuks are hired directly from local owners, the company provides a good and reliable income for some of the poorest Tuk Tuk drivers in Colombo, who would otherwise be working long hours as a driver to support their family. All Tuk Tuks provided are no more than 5 years old, and rentals include comprehensive insurance, 24 hour support and a number of other extras to make your trip safe and hassle-free. They even provide you with your own Sri Lankan driver's license! Travel like a local and drive your own Tuk Tuk around Sri Lanka!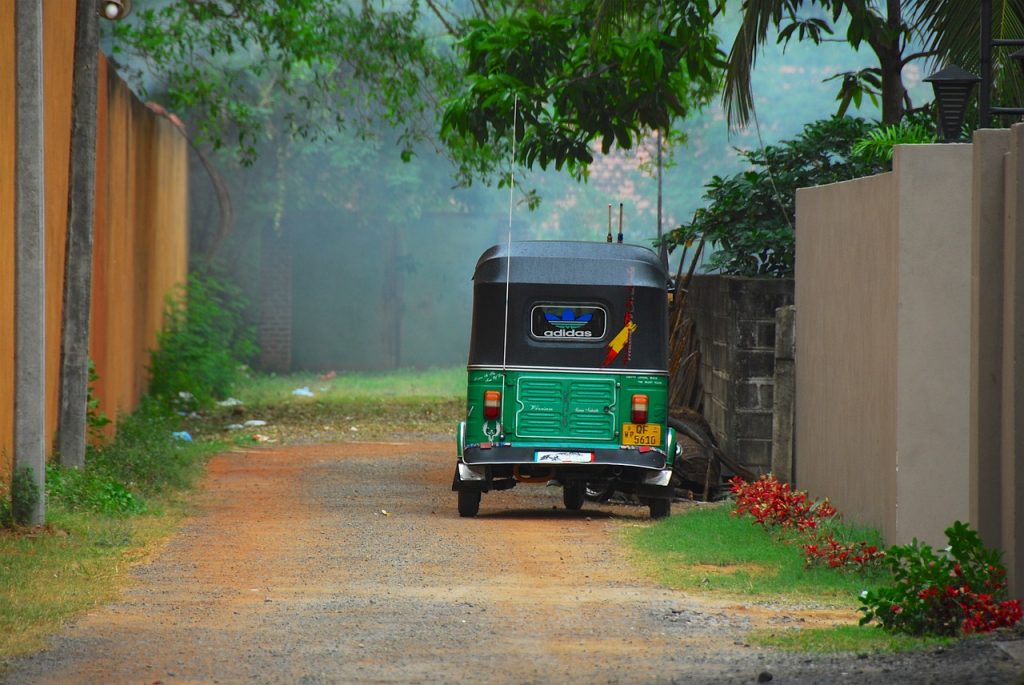 Tuk-Tuk Taxi
Nowadays more three-wheelers are fitted with meters and it is always better to catch one with meter. These will have a Metered Taxi sign on the roof. In March 2015, the meter starts at LKR50, 4-5km should be around LKR200 and 6km should be around LKR250. If you can't find a metered tuk-tuk, do not settle for first one you get, they will fleece you that way. Most tuk-tuks parked outside the hotels are unlikely to have a meter so avoid them and flag a passing tuk-tuk or take a bus. Also, be prepared to be hassled by tuk-tuk drivers every time you leave your hotel or are walking around the city – best just to politely ignore them.
The Sri Lankan Tourist Development Authority also operates its own fleet of 'tuk-tuks' around Colombo which are tourist friendly and metered to ensure that travellers are aware of the price being paid. Tourist board tuk tuks are distinguishable by their unique liveries. These three-wheelers can be booked 24 hours a day by calling +94 712 500 800 or +94 772 299 299.
Taxis
There are 'TATA Nano' cars in service nowadays and the charges start from LKR40/km with air-conditioning and it is also a safe and convenient way to travel. Taxis are much safer than a three-wheeler.
Try Budget Taxi ☎ +94 11 729-9299. Quote of LKR2,800 (March 2015) from Galle Road to the airport.
There is a good, cheap public bus service but you need to know the route number of the bus that you would have to take to your destination. There does not appear to be a website providing any timetable information, but Wikipedia has several posts about bus routes.
Long Distance Buses
There are two bus depots in Pettah on either side of the road, near Fort train station. Sri Lankan Transport Board public (non air conditioned) buses operate from one and mini, air conditioned ones from the other. These buses go to all of the main cities but do not provide any luggage space.
Air conditioned buses with luggage spald like to catch one, go to Wellawatta and ask a few people on Galle Road a day or two before departure to establish where exactly these buses depart from.
Trains
Train services are available to some of the main cities from Colombo but they are infrequent. Some 1st and 2nd class tickets may be booked up to 45 days in advance but these go quickly, especially for popular destinations such as Jaffna. Schedules and fares are listed at http://www.railway.gov.lk/web/
Driver Hire and Private Transportation
UwildHolidays (UwildTours), No. 2/6, Horagolla Wattha, Nittambuwa, 11880, Sri Lanka., ☎ +94(0)77 771 1767 (U-Wild@outlook.com), [1]. daily 8 a.m to 7 p.m. Reputable licensed tour operator, cars and drivers, expert guides in Colombo. Cultural Triangle tours. Extendece to Jaffna go from Wellawatta. These run over night and there are no advertised departure points. If you woud circle island tours. Tour times range from one day to two weeks. Servicing Anuradhapura, Polonnaruwa, Trincomalee, Ella, Yala, Udawalawa, Pinnawala, Sigiriya, Galle, Unawatuna, Mirissa, Kandy and all other points of interest in Sri Lanka. Offers Cruise Ship Day Tours in Colombo. Pick up and drop off at point of request within Colombo/Negombo area, including Port of Colombo and Bandaranaike International Airport.
Malkey Rent a Car, No 58,Pamankada Road,Colombo 06, ☎ +94 11 2365365 (info@malkey.lk), [2]. A rent a car service in Sri Lanka with over 30 years of experience in the industry. Cars are available for tours around the country, airport transfers with or without a driver.