Testimonials By Amit Musaei
Barry Perez

Amit Mussel was a wonderful guide and I now consider him a good friend. He was knowledgable, thorough , flexible and sensitive to our group's needs and desires. This was my 16th trip to Israel and I consider Amit to be among the best. I would not hesitate to highly recommend him and certainly hope I can have him again.
Nina Leifeste


5 star guide! This experience was my most interesting and amazing trip to the Holy Land to date. Amit did an excellent job weaving history, Biblical significance, archeology, geo-politics, and a healthy splash of humor into each day. Every site on the tour was a rich experience because of his knowledge and passion for the Land and it's history.
Laura Lea Newcomb

Amit is such an AMAZING tour guide! The patience and kindness he showed to all 37 people on this tour is wonderful.
He accommodated everyone along the way and customized the trip so everyone could participate to their ability to have the best time ever!
My late husband had a dream for us to travel to Israel, although he isn't here I feel as though my daughter and I have fulfilled the dream to come here and Amit is a big part of this experience for us.
If you visit Israel, you want him as your guide-he's the BEST and you can tell this is his passion!
We thank God for him
Genevieve Morgan

Knowledgeable guide and good overview
The pick up from Tel Aviv was smooth and the van was comfortable. They even had coffee! During the one hour drive our guide gave us interesting and useful information about Jerusalem as well. There were about 14 people on the tour.

Some of the scheduled sites were closed so we saw the City of David, which was a great substitution. The guide was knowledgeable and we most enjoyed discussions of current politics and issues.
Bradley Smith

We highly recommend!
We highly recommend this tour. Our guide, Amit, and our driver, Tony, were incredible. Amit was on the most knowledgeable guides we've had on a tour. The small group made for a more educational learning experience and the transportation was first rate.


Muhammad Ali Arshad

Great histories and archeological tour if old city
Had a great experience with the tour. It was a small manageable group and the tour van was comfortable. Didn't feel rushed in any of the places. The guide Amit was very knowledgeable and had good understanding of archeology. Had a good time on the tour and able to comfortably see all the sites in Jerusalem. Since I'm Muslim I could go see the dome and Al Aqsa mosque. The guide/Amit was supportive of it and was able to work out a plan for me so I can rejoin the tour.
Tong Xiao Tonya

The trip Is awesome! Amit Is very professional guide, knowledgeable info and organized! Highly recommend!!
Polymnia Galiatsatos

Amazing Jerusalem tour indeed
Spectacular! Well structured and paced. Small intimate group. Amit our tour guide was very knowledgeable, and he and our driver Eyal were also hilarious- entertaining. We had enough time to explore all the quarters of Jerusalem, did not feel rushed, and no time was wasted unnecessarily browsing shops for prolonged periods or just sitting around. Highly recommend !
Gerry P

Amit Musaei tour of Jerusalem
Mar 2023
This was a fantastic well organized tour of Jerusalem. Amit was friendly, knowledgeable and most accommodating throughout the tour. His explanations were most appreciated and insightful.
Heather Willhauck

Top notch service with no surprises
As a woman traveling alone I appreciated having a small group and guides who were not only attentive to the group but they were always where they said they'd be at the time provided. Amit and his collogue were very friendly and informative. I would highly recommend them to anyone seeking a quality tour at an affordable price.
Ben Walter

Great way to spend a spare day when you are staying in Tel Aviv
Feb 2023
Our guide Amit was very friendly, knowledgeable and accommodating throughout the day. He was able to adjust the tour to give opportunity to see things not programmed if that was important to us. I was picked up exactly when and where at a reasonable time and I thoroughly enjoyed the walk around Jerusalem. The lunch he recommended was amazing too.
Maksym Haidamashko

Great tour! Totally recommended
Feb 2023 • Solo
It was a great tour! Amit is awesome guide who gave nice storytelling. The group was small and it gave us a possibility to talk and found new friends.
Taylor Klement

Best way to see Jerusalem
Feb 2023
Highly recommend this tour!! The small group allowed more time to see the sites and very little time spent in the car. Amit is extremely knowledgeable. Don't miss this tour!
Sue lippe

Amit was an excellent guide. He is very knowledgeable, organized and upbeat. We really enjoyed the approach to the tour of Jerusalem. It is great to tour as a smaller group. We started with introductions which especially was helpful for those touring on their own to get to know others but also brought the diverse group together.
Jerusalem tour

Great tour
I cannot give enough accolades to the Jerusalem boutique tour our guide Amit was funny, very friendly superbly knowledgeable and very accommodating. He knew so much in the way of interesting historical facts and on top of everything else he arranged a wonderful lunch on the rooftop of a restaurant which you have the option of participating in, you would be foolish not to, the food was great at a great price. In short this your was the highlight of our trip, I recommend it very highly.
Stupendous82

The best of Jerusalem in a day
I enjoyed this tour and learnt a lot. So much history and they really gave us some great highlights. Our guide Amit was very knowledgeable and answered all of our questions with patience. He had heaps of maps, historical pictures to show us along the way too, which added to what he was saying. I was very happy with all the sites that were fit into the tour and the amount of time to see each was nearly spot on.
Yossel

Amit and Uriel made this an extraordinary experience. We enjoyed the views, engaging historical descriptions and context provided. They do go above and beyond in making sure the group stays together and is well informed on what to expect throughout the journey. Toda Raba!
Evelyn A

Untangle the complexities of historical Jerusalem
If you are looking for a guide that provides a comprehensive understanding of the historical complexities of Jerusalem, Amit is your guide. Be prepared to learn, and absorb his incredible knowledge. He is very accommodating to your needs, desires and interests. Thank you for a wonderful day at Jerusalem, G_d be willing until the next time
Kari K

Thorough, historical, immersive
Everything from the transportation, timing, explanations, to the route around and through the city was well organized. Amit was careful to give explanations during the drive to Jerusalem as well as at every stop. The historical detail helped contextualize everything we saw. It was also nice to have an unbiased viewpoint of the city and history. Tradition, belief, and history were all clearly delineated.

The route itself helped to understand the city. Being able to see and hear about landmarks from the Mount of Olives prior to going to the old city helped immensely to understand what we would later see.

The path through the city was also carefully planned, ensuring that we could ascend the Temple Mount during the one hour it was open during the day. The historical detail at the Church of the Holy Sepulcher helped to separate the tradition of the location (and other proposed locations) and historical evidence.

Lunch was great with a fantastic view. Such a unique experience to be able to eat there as a family with the city in full view.

Closing the tour with the sun setting on the western wall was very special as well.

We haven't been on any other Jerusalem tours but I would recommend this tour to anybody I heard was heading to Tel Aviv. Truly a must for anybody traveling there.
Olga A

Fantastic tour of Jerusalem from Tel Aviv. Our guide Amit was very knowledgeable about the history of Israel. We got picked up around 9 am from the bus stop in Tel Aviv and went to Jerusalem. Had a nice few stops over there with some breathtaking views over the old town. Lunch stop was amazing, food was delicious and in abundance 🙂
Yevgeni

The great tour to Jerusalem
Excellent tour. We enjoyed every minute of it.
Amit is very knowledgeable and friendly.
We are very glad.
Kristopher S

Excellent
Amit was amazing and a wealth of knowledge. He was a great host. This is my third tour of Jerusalem and the best. I highly recommend this tour as it left me with even more knowledge of the old city.
katev

Absolutely amazing. Amit was really helpful, informative and fun. It was a really good day, worth every penny. It was a small group and there was so much to see so it was really enjoyable. Recommend this tour to anyone. 10/10!!
Dadvet

I cannot give enough accolades to the Jerusalem boutique tour our guide Amit was funny, very friendly superbly knowledgeable and very accommodating. He knew so much in the way of interesting historical facts and on top of everything else he arranged a wonderful lunch on the rooftop of a restaurant which you have the option of participating in, you would be foolish not to, the food was great at a great price. In short this your was the highlight of our trip, I recommend it very highly
Irina

Great tour and tour guide!
The tour was great from the moment we booked it to the final drop off destination. Communication was easy to coordinate pick up, time, and all the essentials we would need for the day tour. We met Amit early morning and he was great to spend the full day with, Knowledgeable, easy going, and fun! Been to Jerusalem many times before and learned many new things this time. Highly recommend doing a tour with amazing Jerusalem and ask for Amit!
Lynne & Reto

Jerusalem at its best
Would you like to see Jerusalem? I mean would you really like to live and learn and see Jerusalem? LOOK NO FURTHER! Jerusalem Boutique Tours is your first and last stop. We, friend as four, took a tour with Amit, true Friend in Hebrew, everybody's friend. We were picked up in Tel Aviv and had the first part of our exciting education on the way to Jerusalem. The entire day, lasting about nine hours, felt like five minutes. We saw behind so many doors of time in Jerusalem and got the passionate story through it's history from Amit. I dare you to ask him 50 questions and not walk away satisfied! I would imagine that Boutique tours, anywhere they take you, with whomever they choose to take you there will not let you down. Ours was a day to remember. Thank you again Amit!
Cheers from Lynne, Reto Jacqui and Walter from Switzerland
Ronky I

Amazing!!!
Amit our tour guide was so knowledgeable and very professional. He was a lot of fun and made the tour really exciting. Will definitely use them again and highly recommend their service.
Richard S

BEST GUIDE EVER
AMIT was the best guide I have ever had in 77 years. Absolutely knowledgeable and considerate. His explanations were detailed and on the point. i am now more knowledgeable. Heartily recommend
Georgina W

Comprehensive and informative
There are many things to see in Jerusalem, but if you only have one day, this covers the sites that attract most visitors. Our guide, Amit, covered several historical facts that gave context to the visit, along with meaningful Biblical references. His knowledge and sense of humor made it a very enjoyable tour.
Jaime Johnson

We took a church group of 37 to Israel and I could not imagine having any other tour guide! Amit took great care of group throughout the entire trip, he was very knowledgeable and accommodating. Amit went above and beyond everyday and we are so thankful for him. If you're going to Israel, you want him as your guide. Amit, thanks for everything!
LaDonna Breaux

Well my group and I just spent the last 10 days with Amit as our tour guide in Israel! Without a doubt the most wonderful 10 days every! He has so much knowledge,very organized and very prompt! He has such passion and pride about the history of his land and a heart for the future of the land! Did I mention he is really funny too! He was the perfect person for our group. I would highly recommend him to be your tour guide of the Holy Land! I promise you will not be disappointed! Thank you again Amit for all that you shared with us and for such an amazing Journey! Blessing!
Manon van Wees

We enjoyed the tour with guide Amit immensely! His knowledge seemed endless and his sense of humor added to the already relaxed vibe during the day. The group was small and fun consisting of 4 young couples. The tour was very complete, visiting many of historic locations, but did not feel rushed and wasn't exhausting at all. I've already recommended the tour to my sister and friend and will recommend it to everyone!
https://www.tripadvisor.com/ShowUserReviews-g293983-d11745450-r714913406-Booqify-Jerusalem_Jerusalem_District.html
(24.9.19)
Dorien zoutendijk


Geweldige citytour

We had a wonderful trip with Amit to Jerusalem. He knows a lot. Already leaving Tel Aviv he started to explain the history of Jerusalem. It was a wonderful excursion that brought us through al high lights. Especially te visit tot olive mountain and the mount hill were impressive. It really was amazing
Feb 24 2020
Sven Jonasson

Highly recommended !
Very knowledgeable and interesting guide (Amit), really covered alot of interesting locations in Jerusalem in the time available. Comfortable transportation, smooth pick-up, lunch organised in good location ( extra cost for the lunch but very reasonable). Would recommend this trip to anyone interested in a guided one day tour of Jerusalem from Tel Aviv.
Feb 25 2020
David Stanton

Great Tour
The tour was fantastic, impeccible logistically with a civilised start time, breaks always came at the right time and each site flowed into another. Amit was fantastic as was Tony the driver. Thoroughly recommend.
Feb 24 2020
John Nerger Galooba

An amazing city like Jerusalem warrants an amazing tour
Amit led us on an all-day visit to the major sites of Jerusalem, covering quite a bit while not feeling too rushed. The tour plan is a good one though the guide plays a significant part of the experience. Amit was friendly, exceptionally knowledgeable, and able to provide just enough information without feeling like we were at a university lecture. He conversed easily on a broad range of topics, focusing on giving a good understanding of the city's complex history, religious heritage and geopolitical dynamics. We appreciated that the tour picked us up near our hotel and gave us time to enjoy breakfast in the morning before departing. We returned to Tel Aviv by approximately 6:30, a long but thoroughly beneficial day. There is time to get a quick bite for lunch during the day.
Feb 18 2020
Luísa Geraldes

You can really get an overview of Old City if Jerusalem
The timings and the routes are very well managed in a way that you can get an overview of the old city. Amit knows a lot and give you all the historical context of the city. Excellent and comfortable transportation and we could arrive early in Tel Aviv.
Feb 18 2020
Katerina Akrem

Well organized and interesting
Well done to fit a lot in without making it feel overloaded. Small group and practical logistics with minimal waiting and no hassles. Amit, the tour guide, had a great sense of humor and explained enough to give you key and important context.

5 January 2020
Sonia Fernandez

Excellent tour
We thoroughly enjoyed our tour with Amit. He was very knowledgeable and we got to learn a lot about the history of the landmarks and much more about the Old Testament. He was very entertaining as well and had us all have an amazing time. We were a small group which was great too!

31.12.2019
GrandTour84401


Excellent tour. We were a group of 18. Temple Mount was well worth the 1-2 hr wait. Our guide Amit was perfect in every way! Strongly recommended

1.1.2020
Alessio Costanzi

Grazie Amit.
Ottimo tour di Gerusalemme, si parte ad un orario decente. Molti degli altri tour che comprendono anche mar morto e betlemme partono alle 6, questo alle 9:30. Ho visto con calma e bene Gerusalemme con Amit che è molto preparato. Un giorno è il minimo per vedere giurusalemme, mettere altre città nel tour significa vedere meno Gerusalemme...

December 15 2019

Steve Doyle

Amit is a wonderful guide and we highly recommend him. He is extremely knowledgeable in the culture, archeology, religions and nuances of the Holy Land. He has a quick wit with a great sense of humor. Amit took very good care of us and at the end it was like he was part of our family.
Lisa Pierce Riportella

This guy knows his stuff! He has a wonderful sense of humor mixed with a deep understanding of culture and history.
Aimée Carter

I am so thankful that we were blessed to have Amit as our guide during our time in Israel. I learned so much from him. The care he takes in making sure you really have the experience of a lifetime is beyond measure. From making sure you see as much as you can, to making sure you get everything you want out of your trip, he goes above and beyond. Amit's love and pride for his country shines in all he does. He is fun and upbeat and there is never a dull moment. Go now to see Israel and see it with Amit as your guide.
Mark Reynolds

A fresh Israeli Jewish approach to the land of the Bible blending ancient and Hebrew language insights with what one sees on the streets as well as the classic Biblical sites. Amit knows the locals as well and assured all of us of the safety and love of this people and land. Would not want to use any other tour guide and we saw and heard many
Christopher Smith

the knowledge Amit has, the pride and love of his country, and his love to educate and show people his country are all more than seen when Amit is your tour guide. Look no further and book with him now!
Lori Reynolds

Amit was FANTASTIC! Very knowledgeable, fun, and a terrific guide. I HIGHLY recommend him.
David Lipkint

If you come to Israel for whatever reason, whether you come for a good time or to learn about Israel's history (or both) Amit is the tour guide for you! After spending 10 days with him I couldn't ask for a betterl guide through Israel. Thanks for everything Amit! I will never forget this trip!
Mollie Joy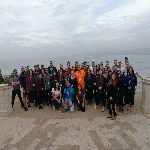 I had both the privilege and pleasure of being guided and working side by side with Amit on a Taglit Birthright Trip through Israel Outdoors. Amit is not only passionate about his work as a tour guide but passionate about life in general. He is genuine, motivational and truly knows how to make Israel such a special experience. We worked with 40 adults aged 22-26 for 11 days and Amit guided them through the country flawlessly. I have never seen such a well-liked guide by each and every participant. Overall, Amit's enthusiasm is contagious and he inspired and motivated every single participant on the trip, including myself. If you are looking for the best tour you can possibly find in Israel, Amit is your guy.

Filippo Sangregorio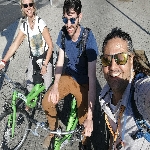 Me and my mom passed a very beautiful day in Tel Aviv with Amit yesterday. He is an incredible guide he taught us a lot of things of the city we spoke about art architecture and history. He is very well prepared helpful and friendly.
It was the first time in Tel Aviv for both of us and with Amit we covered the most of the important points of the city in a 7 hours walk and bike tour. We want to say thank you to Amit we had a very fun day.
Ágnes Kelemen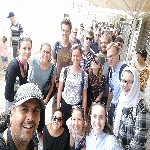 I had a great "holy City" tour in Jerusalem with Amit as part of a scholarly group of 12 people. He provided a lot of information, told all stories in an as unbiased way as possible and even took into account such worldly needs as people wanting to eat and go to the bathroom during a 4 hours walk. So, besides being professional he is also friendly. I can warmly recommend his tour. He asked us n advance what are the main field of interest for our group, so you can make sure in advance that the tour is tailor cut for your needs.
Johnny Frohman

I was one of thirty eighty American Jews that Amit took on a tour of Israel over the past week and a half. On the first day, he taught us the Hebrew word for friend, "Havarim," which he divulged was an utmost priority in his life. I'm not sure that any of us really understood the sincerity of his sentiment at the beginning of our trip. But as Amit shepherded us around the country, teaching us about its rich history and reminding us to stay hydrated, it became increasingly clear that he really viewed us as friends for life. He was an amazing tour guide with boundless knowledge who was as entertaining as he was knowledgeable. I would highly advise against going with any other tour guide than Amit Musaei.
Eban Lewis

Had a cycling tour of Tel Aviv with Amit today. Really enjoyed it, we stopped at several locations around the city where he told us all about Tel Aviv, it's history and about significant figures who played a part in its history. I would highly recommend booking a tour with Amit, as he really knows his stuff and makes the tour interesting.
Philipp Sjöberg

Thank you, Amit, for the interesting, insightful, diverting and humorous TLV bike tour. Absolutely recommended.
Gloria Katona

My friend and I were thrilled with our private tour of Old Jerusalem with Amit. He seemed to intuitively know exactly what we wanted to see, even though we couldn't articulate it. The pace was perfect and he had us mesmerized with his knowledge and stories. I highly recommend him for YOUR next tour -- money WELL SPENT -- we saw and learned 5x more than we could have any other way.
Witoon Joe

He is friendly and find to fit our demand with excellent service mind. I and my friend very appreciate his active speaking and a lot of historical story. Again, he very friendly. Thank you from Thailand (??????????????????????)