Testimonials By Jose Gomez
Wow. Amazing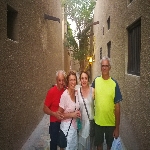 Jose Gomez. What can we say?
You made our break perfect in Dubai Gomez, can't thank you enough.
If you're looking to book a tour of any description then look no more. You have struck gold with Gomez.
Well, we took the opportunity to contact him to discuss a perfect tailored tour with him and we are so glad we did.
None of this fixed must go here or there, we visited everywhere we wanted and had an outstanding day.
He's the sort of guy you would want to go for a beer with when back home.

Cheers!
Amazing Tour by Gomez!
Gomez was so responsive, caring and showed me everything I wanted. I
only had a layover for one night and he picked me up from the airport
and dropped me off at the hotel. He gave great background on
everything we saw, and was nice easy company. I would recommend him to
anyone!
Fox 13 News Channel anchor Cynthia Weller speaks about Dubai tour with Jose Gomez

John Loftus and family from Japan enjoying a city tour in Dubai

Darrell - Private city tour ( Tripadvisor)
Met up with Jose from the get go he was friendly and really knew what he was talking about, he took us to many places in the city and we were blown away with it all.......... Would 100% recommend anyone going for a tour to contact Jose gomez I guarantee you will not be disappointed. We ended the tour with a new friend not just a tour guide. Thanks a million Bro!!!!


Private Tour of the Best of Dubai with Gomez
Exactly what we wanted from a day tour in Dubai! Jose is an extremely
nice guy, we've had lots of fun driving and walking through the city
with him. The trip to an old town market and Dubai creek crossing was
an exceptional experience. Jose offered any help and was very well
organized, he has gotten in touch straight away and ordered tickets to
Burj Khalifa for us. Much recommended!
Great time exploring old Dubai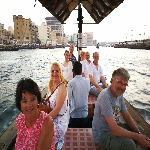 From start to finish Jose was helpful, informative and friendly. My
sons and i thoroughly enjoyed our time exploring old Dubai and
learning about the area and it's history. I would highly recommended
Jose as a host. He looked after us well and made sure that even though it was Ramadan we all had access to an ample supply of water. The boys learnt a lot and loved the Abra ride.
A trip to Dubai without Jose's walking tour will be a lost opportunity
Jose guided us (three "older" women) on delightful trip around Dubai.
He made sure we experienced the beauty and bustle of Old Town as well
as the wonder of the new city. He was knowledgeable about the history
aa well as current events which added much depth to our visit. Anand
is a funny guy who loves to joke and laugh and we were thoroughly
delighted. He was willing and able to make changes in our tour based
on our interests and was careful to keep an eye on our health and
hydration (it was 104 degrees). I highly recommend jose as your guide
in Dubai....it will enhance your visit to this unusual & fascinating
city.
Carmen-WONDERFUL EXPERIENCE! Jose Gomez -Tripadvisor

We don't have words to express how amazing was Gomez and the driver
with us. Gomez showed us everything we asked to see: to the desert,
to the main things one should see in Dubai and also he took us to a
delicious local restaurant. Definitely, we totally recommend Gomez .


UAE with Jose Gomez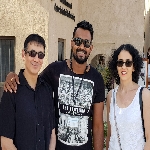 We leave Dubai later today. Our trip and experience in U.A.E has been awesome and truly memorable thanks to Jose Gomez our private Tour Guide. We found Gomez on the net with excellent reviews so contacted him and told him about our interests particularly history, culture and cars. We liaised over a couple of days and Gomez put together an itinerary totally tailored for us! It was amazing. We came to our hotel rested for a day and then hit the road! Over 4 days we covered in Dubai - the City, old Souks (markets), Abra ride, Aquarium and underwater Zoo at Dubai Mall, Burj Khalifa (124th floor!), The Palm Jumeira Beach, Dubai Marina and Beach, Museum/Fort, Palaces and an amazing Fountain show. In Al hin we covered a drive up to the top of the pictuorous Jebel Hafeet Mountain, visited the Date Farm, two Musuems/Forts and an amazing Zoo. We experienced Dune Bashing and dinner/entertainment in a Desert Camp in Sharjah..both excellent. In Abu Dhabi we went to Yas Marina Circuit (F1) for a fantastic pre-booked driving experience, Ferrari World Mall, Grand Sheikh Zayed Mosque and the National Auto Museum. Plus a couple of malls! It sounds like a packed itinerary but the way Gomez arranged it all he ensured we had rest in terms of pick up times from our hotel...so we managed to recoup and even managed to get to the beaches to soak in the sun! On our last day Gomez took us to the Motor City, car show rooms, religious places, last minute shopping and Coffee tasting! We felt very comfortable with Gomez who had an immense amount of knowledge (we learnt so much about U.A.E) and he also doubled up as a photographer! We hope all our photos will entice you to go to U.A.E and we highly recommended Gomez who will tailor a trip according to your interests....you will not be disappointed!
Andrea F - TripAdvisor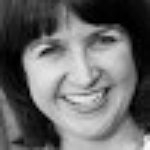 Booked a private tour so I could see the non-touristy side of the City and could not have gotten a better tour with Jose. He's the BEST. Knowledgeable, fun, and willing to go on a wild goose purse chase with me. Book with Jose. You will get to see the REAL Dubai!


Cynthia Weller (13 Jul 2017) Fox 13 news journalist speaks about Jose Gomez (Trip Advisor)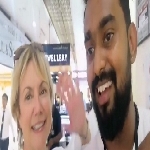 What a wonderful day in Dubai! Thanks to our tour guide, Jose Gomez! He is knowledgable, courteous and fun! Our party of 4 got to see all the highlights, shop at the Souks and have a delicious lunch too! Jose knows his stuff and he's definitely the guy to show you Dubai, whether you have an entire day or just a few hours.
Mark Stillwill about Jose Gomez - Trip advisor
I scheduled a long(15 hr) nighttime layover in Dubai with my family (wife and 3 young adult kids). We wanted enough time to see some of the City before heading on. We booked a private tour with Jose Gomez and had a wonderful time. Jose is smart, funny, and dedicated to giving his clients a great tour. He's also very flexible. And he knows Dubai like the back of his hand. We saw all of the top sites in our time together (6-7 hrs). I would use Jose again in a heartbeat if we ever returned.
WHY USE BOOQIFY?

Mr Gary Jackson -The greatest tour ever with Jose Gomez! - Trip Advisor
Wow I loved the full day tour, we managed to see just about everything from the new city to old Dubai. Jose Gomez was a top tour guide and his knowledge and passion about Dubai was great.
If you stop over in Dubai book Jose for a tour and he will pick you up from the airport or hotel and drop you back. 4wd was luxury and the food was from authentic traditional cooking.
To see both sides of Dubai and the future developments has blown me away and I leave much richer in culture and knowledge.

Gary Jackson
Australia


Dubai city half day tour with Booqify guide Jose Gomez testimonials from Mrs Debbie & family

NBC Chicago Friends About Jose Gomez!

Bruce William -The Best Way To Get Introduced To Dubai- Trip Advisor

My wife and I were in Dubai a few weeks ago. We had only a few days, but still wanted to explore the city. The juxtaposition of old and new made it a daunting task. And we were SO DELIGHTED we decided to take DUBAI PRIVATE TOUR. Our guide was one of the most informed guides we've ever had. He knew historical, commercial, religious, political details--both old and new. He took us to so many places we'd have NEVER found without him. His name is Jose Gomez and if you can get him, it will be well worth your while. The tour was well put together, punctual, and he even had a portable cooler packed with water bottles. Totally loved it. Thanks, Jose.


Willow - What a fabulous guide and tour- 10 out of 10 Jose Gomez!( Tripadvisor )

Jose Gomez was a first rate guide, told us lots of information about everywhere we visited. Took us to extra places we had not expected to see. Nothing was too much trouble. We did the 6 hour City Tour and saw everything, if I was looking at any tour in Dubai on the back of this one you will not beat it, we shall certainly recommend and return for a different tour next time, but will ask for Jose


Mr Dennis Ryan Speaks About his dubai tour with Jose Gomez

Imtiaz Ali with Jose Gomez

Bill weller speaks about Jose Gomez

Junior cantero & dayneris coda speaks about dubai food tour with Jose Gomez

Hanan- Best Dubai Tour with an Amazing Tour Guide (layover/solo) - Trip Advisor

I can not even describe how WONDERFUL my trip to Dubai was because of my private tour with J. Gomez!!! I was traveling alone for the very first time to Egypt and with Dubai as a layover I knew I could not pass up the opportunity to sight-see. With just 5 hrs I opted for a private layover Tour. From beginning to end Gomez was accommodating and attentive. He catered the package to my liking and made every moment count on the trip. Not only was he incredibly knowledgeable of Dubai having over 10 years of experience but it was the tiny details like pointing out different spices in the spice souk, trying the best shwarma and even camel's milk ice cream. He took some of the best pictures I have at all the famous landmarks and made my experience in Dubai truly magical. I cannot wait to return with my family and best believe He will be the only tour guide I book with again!! I also want to say Thank you to the driver who was always there to pick us up and very patient. Truly a stellar guide!

I want to add that for any women traveling solo to Dubai you will feel very safe and Gomez does an excellent job of making you feel like you're one of the expats there! I cannot rave enough it was one of the best tours I've ever had!!