Testimonials By Amri Wandel
Trip Advisor: Carie, USA. Jerusalem of Gold and Stones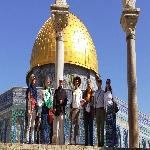 Review of Jerusalem of Gold and Stones: a city of three religions and 4000 years
We recommend Amri as a tour guide. He is knowledgeable, reliable, energetic and easygoing. We chose Amri to be our guide for a number of tours including Jerusalem as well as Masada/Dead Sea, Caesaria/Acco/Rosh HaNikra, and the Soreq/Avshalom Caves and we were so glad we did. He is very knowledgeable about history, science, nature, archeology, etc... He customized our tours to our interests. He was so flexible with scheduling, and is a very nice person. We were worried that we scheduled all of our day trips with only one guide, but Amri turned out to be great!

Written on Trip Advisor by Carie, USA, November 2019
Graham Mann, tourism journalist, Scotland (Facebook)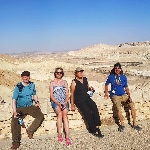 Hi everyone, boarding for London soon. Did I have a great time?? Ken, ken ken 🙂 (Yes, Yes Yes in Hebrew)

Group "Green Israel Trip" hosted by the ministry of tourism on July 2022, more pictures on my Facebook page,
https://www.facebook.com/permalink.php?story_fbid=5096306470468029&id=703614503070603


Apostle Domiziano Mwenda, Kenya (Facebook)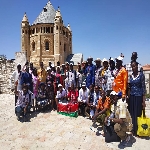 He is a wonderful guide. very good in all areas . I recommend him for all groups especially religious
He is a very kind person all the days that He has been guiding us we have enjoyed being with him
(African group July 2019)
German Christian group - 8 days Galilee & Jerusalem
Letter from a German Christian group which I guided 8 days in the Galilee and Jerusalem, "in the footsteps of Jesus": posted on my Facebook page, March 2019
Dear Amri!
We traveled through Israel with you last week. You showed us your country in a very committed and sensitive way. The trip will remain unforgettable for us. In addition, you have with your great knowledge of country and its people and their thousands of years of history. We thank you again very much for your great guidance.
Lieber Amri!
Wir sind in der vorigen Woche mit Ihnen durch Israel gereist. Sie haben uns sehr engagiert und einfühlsam Ihr Land nahe gebracht. Die Reise wird uns unvergesslich bleiben. Dazu haben Sie mit Ihrer großen Kenntnis von
Land und Leuten und deren Jahrtausende alter Geschichte sehr viel beigetragen. Wir danken Ihnen nochmals ganz herzlich für Ihre großartige Führung.