Testimonials By YASSER AL MAAMARI
YASSER AL MAAMARI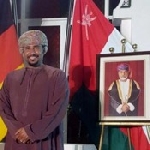 Ahlan wa Sahlan! Welcome ! It is my pleasure to introduce myself to you. My name is Yasser, I am a 40 year old Omani national.

I have been guiding tourist around my beautiful country since a young age and it has always been my passion.

Oman's beautiful beaches, lush Wadis and wide desert sands offer an outstanding range of activities and sights. It is said that the friendliness and hospitality of my home country has impacted the trips of many tourists and has made their visits unforgettable.
Come and join me on a day tour or round trip, on request through Booqify.

It would be my great pleasure to show you my country.