Testimonials By Willem Mulder
Morag Vandepeer
I bought this trike tour for my husband for his 60th just before we left the UK to come and live in South Africa.

What a fabulous day we had, thank you to Willem for such a well planned day out. Willem was so informative and knowledgeable taking us to the main sights of Cape Town and the surrounding areas on an amazing day out. We had such fun and what a great guy Willem is to spend a day with.

We toured the coast on his unique trike the only one of its kind in Cape Town. We were lucky the weather was beautiful and so clear, which enabled us to see some stunning scenery with amazing views.

Our tour took us from Cape Town along the scenic coastal route to Cape point and included many stops, photo opportunities and sights along the way. We took a boat trip to seal island, visited Table Mountain National Park. We had lunch at Cape Point enjoying some wine (we were not driving today so we could!) and wonderful sea food.

We walked off the superb lunch we had at Cape Point during our stop at Boulders, the home of the African Penguin and had the opportunity to see many penguins close up.

Our trip then took us back towards Cape Town taking in the stunning sight of Cape Town from a fantastic view point up at Rhodes Memorial.

A totally worthwhile way to see the sights with someone who has wonderful first hand knowledge and excellent historical knowledge, information and stories to tell.

Thanks again Willem for a fabulous day and we hope to see you again soon as you visit Franschhoek on one of your other tours you provide...
Anne & Frank from Germany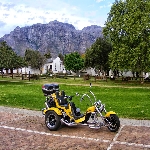 One day you will regret not to have done that thrillling, stunning and exciting day trip with South Africa's best tourist guide Willem Mulder. His knowledge about all places around the Western Cape is stunning. He even knows everything interesting that happened in the past. You will immediately feel friends with Willem as he doesn't appear as a stranger that is payed for driving you around. We now have been to Cape Town and Garden Route for 5 times, but we never saw those beautiful spots Willem introduced to us. Such a pity we didn't know about him before. This year we made 2 trike tours with him during our holidays and it is definately for sure we will make it again and again. Can't wait till next vacation. Highly recommended to all persons. Not only to those who don't live in South Africa. Don't miss the chance to sit on Willem's fantastic and unique trike!! Don't miss Willem!!
Gabriella Bianchi from Switzerland

If you are in Cape Town it's a MUST to do a tour with the trike. It's fun to ride on the back of the trike. You see, feel and smell the Mothercity. I'm coming to South Africa every year and since 3 years I always book a tour with Willem Mulder. The next one is in Nobvember again. He is a very good guide and knows a lot about Cape Town and South Africa. Last year I had the oportunity to do a 12 day tour with Willem from Cape Town all the way to Addo Elephant Park and back to Cape Town again along the Garden Route. I have done this trip before a few times, but this one was the very, very best! You see much more on the back of the trike than out of a car window. You feel the wind and the sun. What more do you want? Try it, you can't get anything better than that! Looking forward to my trip to Hermanus in 2 weeks
Promotional video