Testimonials By Twende Africa Tours
Wonderful Experience at Kilimanjaro!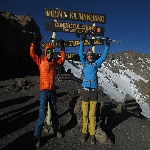 My partner and I had a wonderful experience throughout the climb. Our guides, Peter and Godlisten were extremely helpful and we really enjoyed spending time getting to know them! They made sure we had all the gear needed and were comfortable as can be.

The climb itself was very difficult, especially since we only had 5 days, but it was worth the effort. Kilimanjaro was beautiful and it was cool to go through different climate zones. Our guides were also very knowledgeable and excited to share information about the mountain and the species in the area. You could easily tell how passionate they were about Tanzania and Kilimanjaro itself.

We came back early since I experienced altitude sickness but it was still one of the coolest things I've done.

I would definitely recommend them for anyone considering climbing Kilimanjaro. You won't be disappointed!
Tarangire National Park-Private Day Trip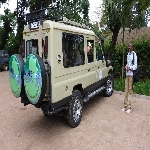 Twende Africa Tours surprised us by being the first to respond to our online inquiries for a day trip. We received all the necessary info for our enquiries. We were well received at their offices and on the day of the trip they accorded us such an amazing trip to Tarangire. Our driver-guide was very nice and well informed about the park and Peter, our contact went beyond professionalism to even meet us upon our return to Moshi the same night and see us off to our home. We truly enjoyed their services and the package offered for the day trip.
Well done Twende Africa Tours!
Best LOCAL Kilimanjaro trekking company in Tanzania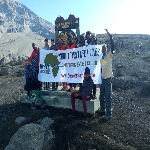 My wife and I recently conquered Kilimanjaro with Twende. We were looking for a locally owned and operated trekking company in an attempt to support the local economy. The experience completely exceeded our expectations. Peter and his team made sure we were prepared ahead of time and they made every day comfortable and exciting. The food was incredible and there was always plenty left over. They were very safety conscious and monitored our blood oxygen saturation levels and heart rate daily to keep track of how our bodies adapted to the altitude. They were professional, yet casual enough to make us feel like family. We summited on my wife's 40th birthday. It was a trip of a lifetime. Peter picked us up at the airport and escorted us back there when our trip was done. Door to door service :-). The hotel included in our package was luxurious. I would definitely recommend Twende to everyone planning to trek Kilimanjaro or go on a Safari in Tanzania. You will not be disappointed.